Beef stew with veggies in red wine is on the menu in Book recipe, and we are going to teach you how to make this delicious recipe from scratch!
Beef and veggies roast is a mouth-watering dish, equally well for a daily menu and festive table. Thanks to a special beef frying and braising, meat comes out tender and juicy and vegetables, cooked in a meat broth, open new tastes. Having tasted this dish, you see that cooking a roast is not a waste of time.
BOEUF BOURGUIGNON
Follow along with the ???? recipes below????????????????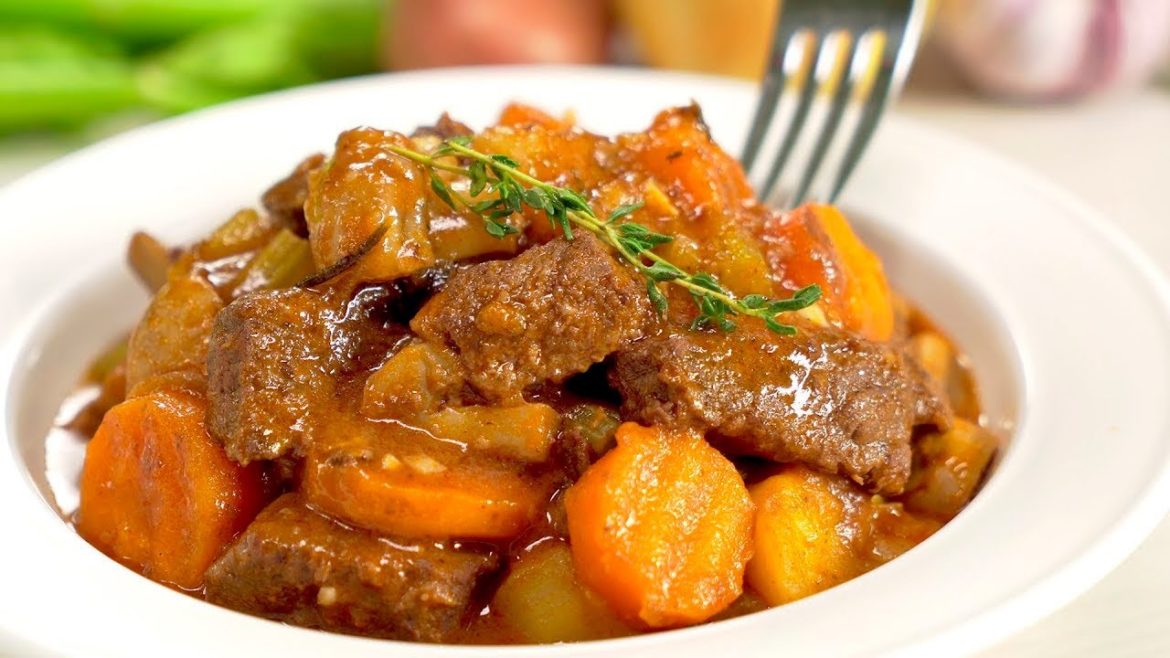 Ingredients
beef – 2 lb /900 g
bulb onion – 6 oz /170 g
garlic – ½ oz /15 g
beef broth – 1 cup /250 ml
tomato paste – 1 tbsp
crushed tomatoes – 5 fi oz /150 ml
carrot – 12 oz /350 g
mushrooms – 9 oz /250 g
celery – 4 oz /120 g
potato – 1 lb /450 g
red dry wine – 1 cup /250 ml
wheat flour – 2 tbsp
salt – 1 tsp
ground black pepper – 1 tsp
olive oil – 3 tbsp
dried rosemary – 1 tsp
chili pepper – ¼ tsp
fresh thyme – 1 tbsp
You will need:
carving board
bowl
saucepan
Instructions
Cut the vegetables into medium pieces of about equal size.
Cut the beef into medium pieces.
Lay the meat into a big bowl, add the wheat flour, salt and black pepper and combine well.
Heat the olive oil in a saucepan and, soon as oil is hot, fry the beef portionwise for 1-2 minutes on each side.
Take the fried meat out of the saucepan, cover with a food foil and put aside.
Add the bulb onion cut into feathers and minced garlic and fry for a minute.
Add the broth and stir scraping the bottom with a wooden spatula to remove the stuck meat and flour little parts.
Lay back the fried beef into the saucepan and add the tomato paste, crushed tomatoes, cut carrot, mushrooms, celery and potato.
Add the red dry wine, dried rosemary, chili pepper and stir well.
Add the fresh thyme atop.
Bring to a boil, reduce the heat to low and cover with a lid, braise the beef and vegetable roast for 2 hours.
Did You Make This Recipe?
---
Enjoy