Caramel Banana Waffle Cake is on the menu in Book recipe, and we are going to teach you how to make this delicious recipe from scratch!
Follow along with the ???? recipes below????????????????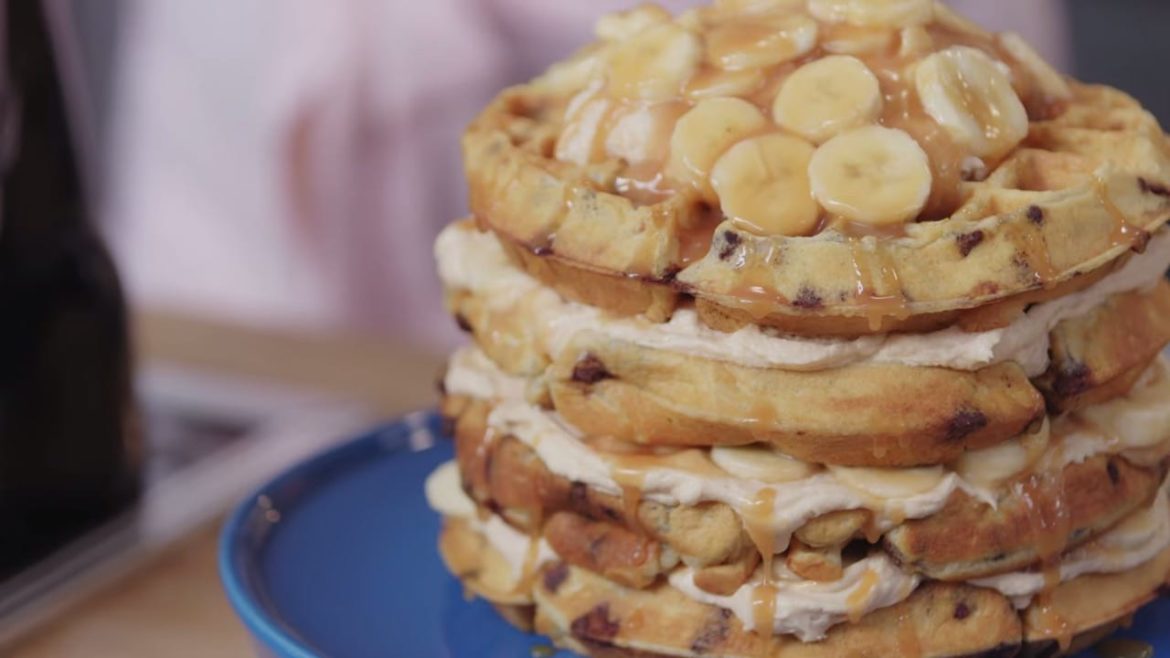 Ingredients
Waffles:
3 cups (450 g) all-purpose flour
3 Tbsp (37 g) granulated sugar
1 Tbsp baking powder
1 ½ tsp baking soda
¾ tsp fine salt
3 cups (750 mL) buttermilk
3 large eggs
2 tsp vanilla extract
½ cup (115 g) unsalted butter, melted (warm is OK)
1 cup (175 g) mini chocolate chips
Peanut Butter Filling
2 x 250 g pkg cream cheese, at room temperature
1 cup (250 g) peanut butter (conventional or pure)
1 cup (130 g) icing sugar
3 Tbsp (45 mL) whipping cream
2 tsp vanilla extract
Salted Caramel Bananas
1 cup (250 mL) Salted Butter Caramel Sauce (see Sea Salt Caramel Layer Cake)
4 large bananas sliced
Instructions
Whisk the flour, sugar, baking powder, baking soda, and salt together in a large mixing bowl. Add the buttermilk, eggs, and vanilla and whisk until combined (but a few lumps are OK). Whisk in the melted butter and then stir in the mini chocolate chips.
Heat your waffle iron following the manufacturer's instructions. Have two baking trays with cooling racks placed on top, on hand. Lightly grease the iron and ladle on enough batter to fill the waffle pattern once closed (it may take sacrificing one for practice). Cook until a rich golden brown (cook time may vary, depending on the iron) and remove to cool on the rack. Repeat until all of the batters has been used.
For the filling, use electric beaters or a stand mixer fitted with the paddle attachment and beat the cream cheese on medium-high speed until fluffy. Add the peanut butter and beat in well, scraping the bowl as needed. Add the icing sugar and beat in (start at low speed until combined). The mixture might seem tight at this point – add the cream and vanilla and it will smooth out.
For the bananas, heat the caramel slightly to soften it (but not to warm it) and toss the bananas to coat.
To assemble the cake, place a cooled waffle on a cake stand or platter. Spread a generous amount of peanut butter filling over top and arrange a single layer of bananas (dripping caramel as well) over this. Top with the next waffle and repeat until you have 4 waffles stacked. Finish the top with a dollop of peanut butter filling, spreading it but not all the way to the edges and top with the remaining bananas. Use a spoon to drizzle any remaining caramel sauce over the edges, to drip appealingly. Chill the waffle cake until ready to serve.
Notes
I make extra because sometimes it takes the first one to get the shape and doneness right, and then one extra as backup.

Did You Make This Recipe?
---
Bon Appétit