Hello friends! Today we're going to share with you how to make a classic Thai dish: Tom Yum Goong (ต้มยำกุ้ง/ tom yam soup/ tom yum Kung).
Tom yum goong is a type of sour and spicy Thai soup, usually cooked with shrimp or a mix of seafood, like squid, fish. In the Thai language, tom means the boiling process, and yam means "mixed" or "salad". The essential ingredients of tom yum are herbs such as lemongrass, galangal, kaffir lime leaves, these 3 main herbs give the soup flavor, they are absolutely necessary. The rest of the ingredients are lime juice, fish sauce, Thai Chili paste, and red chili crushed. Tom Yum is spicy, sour, savory, and addictive. Hope you like this post.
How to make Tom Yum Goong Soup?
Follow along with the ???? recipes below????????????????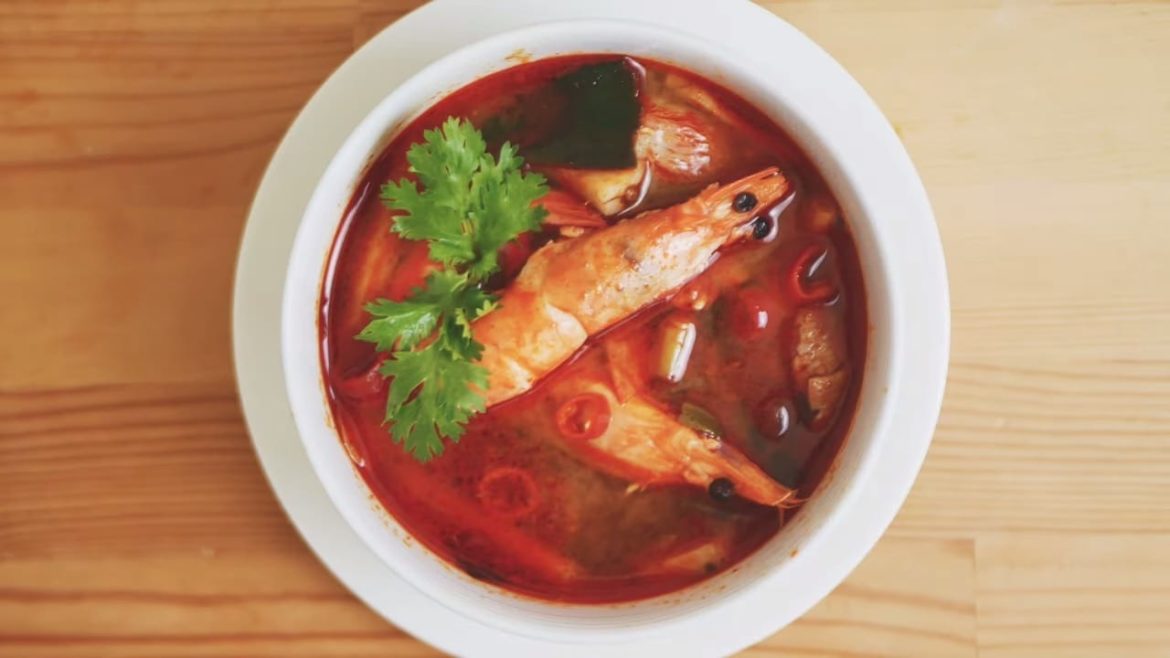 Ingredients
shrimp 4, medium size
oyster mushrooms 80g
lemongrass 2 stalks
galangal 2-inch chunk
kaffir lime leaves 5
shallots 4
chili Q.S
cilantro roots 2
Thai chili paste 30g (1.5tbs)
fish sauce 35g (2.5tbs)
lime juice 20g (1.5tbs)
chicken stock 500ml
sugar 7g (1/2 tbs)
Instructions
Use a scissor to cut the sharp point of the shrimp (telson and rostrum), but keep the head-on, also cut the antennas and legs. Then open the shell along the back of the shrimp and remove the shell and vein. Spoon the shrimp yellow in the head, it's full of flavor, set aside.
Slice the galangal. Unlike ginger, galangal is too hard to cut through, so be careful. Crush the lemongrass with the back of the knife, and cut it into small chunks. Remove the thick vein from the lemon leaves, then tear into small pieces. Remove the leaves from cilantro, but keep the roots.
Pour oil into the skillet, add "shrimp yellow" and sauté over medium heat, add Thai chili paste, and cook until well combined.
Pour 500ml stock into the soup pot, bring to a boil, add cilantro roots, galango, lemongrass, shallots, and lemon leaves, turn to low heat, cook for 3 minutes.
Add shrimp yellow chili paste, stir slightly until well combined. Add mushrooms, cook until soft.
Add fish sauce, sugar, and lemon juice.
Add shrimp and cook until they are all cooked through. Taste and add more seasoning if needed.
Turn off the heat and add chiles, but this is optional.
Notes
If the chicken stock is unsalted, you can add 1/4 tbsp salt
Most store-bought chicken stocks are salted, so don't need to add salt, you can mix 250ml stock with 250ml of water.

Did You Make This Recipe?
---
Bon Appétit