Stir Fry Chicken with pine nuts and broccoli are on the menu in Book recipe, and we are going to teach you how to make this delicious recipe from scratch!
Let's make an easy and delicious recipe for stir and fry chicken with pine nuts and broccoli. I regularly use different vegetable combinations, but the base of the sauce and the marinade remains the same. You can use green peas, ginger, green onion, bamboo, red or green pepper, bok choy, spinach, kale, etc.
Follow along with the ???? recipes below????????????????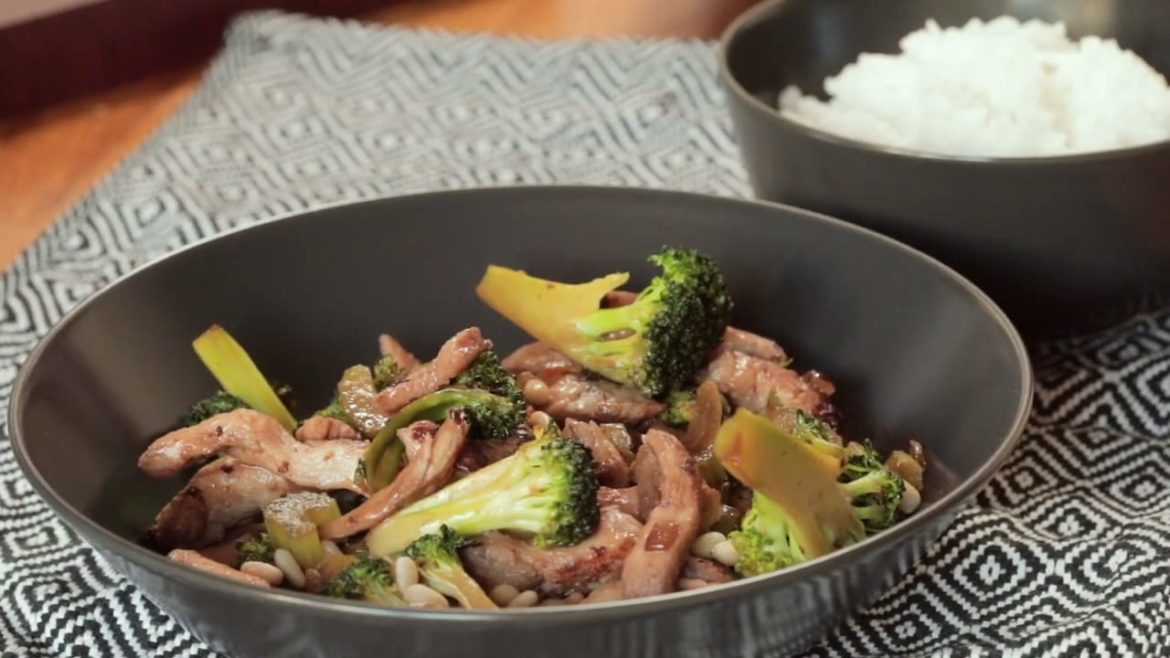 Ingredients
600g of chicken breast boneless
One onion
few pieces of Broccoli florets
1 -2 sticks of Apio celery
a handful of pine nuts
For Marinade
1 tsp ( 4g ) Baking Soda
1 tbsp ( 15ml ) Rice Wine
1 tbsp ( 8g ) Cornstarch
1 tbsp ( 15ml ) Sesame oil
for Sauce
4tbsp ( 60ml ) Soy Sauce
4tbsp ( 60ml ) Water
1tbsp ( 15ml ) Oyster Sauce
1tbsp ( 15ml ) Sesame oil
1tbsp ( 15ml ) Rice wine
1 tsp ( 5g ) Sugar
Instructions
Cut into strips the chicken, you can cut it into small cubes too.
Add the baking soda and mix it well after that let it marinate for 15 -20 minutes.
Rinse the chicken and dry it. Add 1 tbsp of sesame oil, 1 tbsp rice wine, and 1 tbsp of corn starch. Mix it well and marinate for 15 - 20 minutes.
Cut the vegetables in easy to eat size.
Mix all the sauce ingredients.
In a wok, add some cooking oil, add the chicken and fry for 3- 4 minutes. Remove from the heat into a bowl.
Add more oil and bring in the vegetables, and stir and fry them for 2 minutes. Don't overcook them, they will become soft and loose in color. Add the chicken, add the sauce, and cook them together for 1 - 2 minutes until everything is coated.
Sprinkle over some pine nuts and serve with long grain rice.
Did You Make This Recipe?
---
Enjoy