Eggless Blueberry Lemon Cake is on the menu in Book recipe, and we are going to teach you how to make this delicious recipe from scratch!
Follow along with the ???? recipes below????????????????
How to make a super soft and fluffy lemon and blueberry cake with an irresistible lemon glaze on top and without oven! You don't need to bake this cake in the oven, you can use a microwave as I show in the video.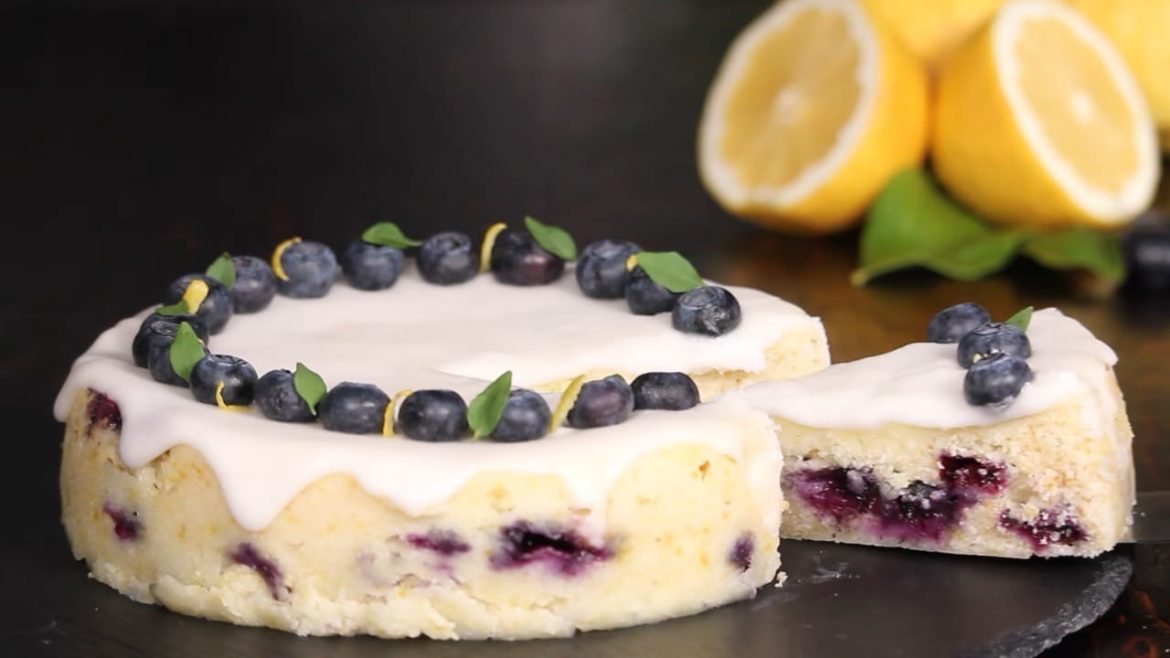 Ingredients
CAKE:
100 g (1/2 cup) unsalted butter, room temperature
110 g (1/2 cup) caster sugar
The zest from 2 lemons
180 g (1+1/2 cup) all-purpose flour
20 g (3 tbsp) cornstarch or all-purpose flour
1/4 tsp salt
5 g (1 tsp) baking powder
1/4 tsp baking soda
160 g (2/3 cup) unsweetened plain yogurt, room temperature
40 g (2+1/2 tbsp) milk
100 g blueberries (fresh or frozen) + 1tsp vegetable oil + 1/2 tbsp flour
Glaze:
155 g (1+1/4 cups) powdered sugar
about 1+1/2 tbsp lemon juice
Instructions
CAKE:
Place butter, sugar, and lemon zest in a large bowl and mix with a hand mixer for at least 4 minutes, until pale, creamy and very fluffy.
In a medium-size bowl, sift together flour, cornstarch, baking powder, baking soda, salt, and mix until well combined.
Add about 1/3 of flour mix into the butter mix and combine with a spatula: don't mix too much, just until incorporated.
Incorporate about 1/3 of yogurt. Keep on alternating flour mix and yogurt mix until they are finished.
In a medium-size bowl, place blueberries and coat them with vegetable oil. Add flour and toss to coat.
Add blueberries into the cake batter and well combine.
Place the batter into a greased 20cm-8inch silicone cake mold.
Place some blueberries on top and cover them with some batter.
Cook in the microwave (800 W) for 9 1/2 minutes, or until it's dry on top if you touch it. If you have a Microwave with higher/lower wattage, you have to reduce/increase the cooking time for few seconds. You can also bake in a preheated traditional fan oven, upper and lower heat, at 170°C until a toothpick comes out clean.
Cool down for at least 20 minutes before unmolding the cake.
GLAZE:
In a medium-size bowl place powdered sugar.
Start adding lemon juice little by little until you'll get a very thick glaze: don't add too much juice or the glaze will turn out very runny and watery.
Place the glaze on top and decorate with blueberries, lemon zest, and mint leaves.
Let the glaze dry for at least 3 hours before serving it.
Notes
Store at room temperature for about 2-3 days, in the refrigerator for about 1 week.

Did You Make This Recipe?
---
Enjoy