Vegetable Salad With Crab Sticks are on the menu in Book recipe, and we are going to teach you how to make this delicious recipe from scratch!
Light and tasty vegetable and surimi sticks salad is cooked quick and easy out of affordable ingredients. Such a salad will never be a waste and unsavory, confirming once again the fact of «beauty is in simplicity».
Follow along with the ???? recipes below????????????????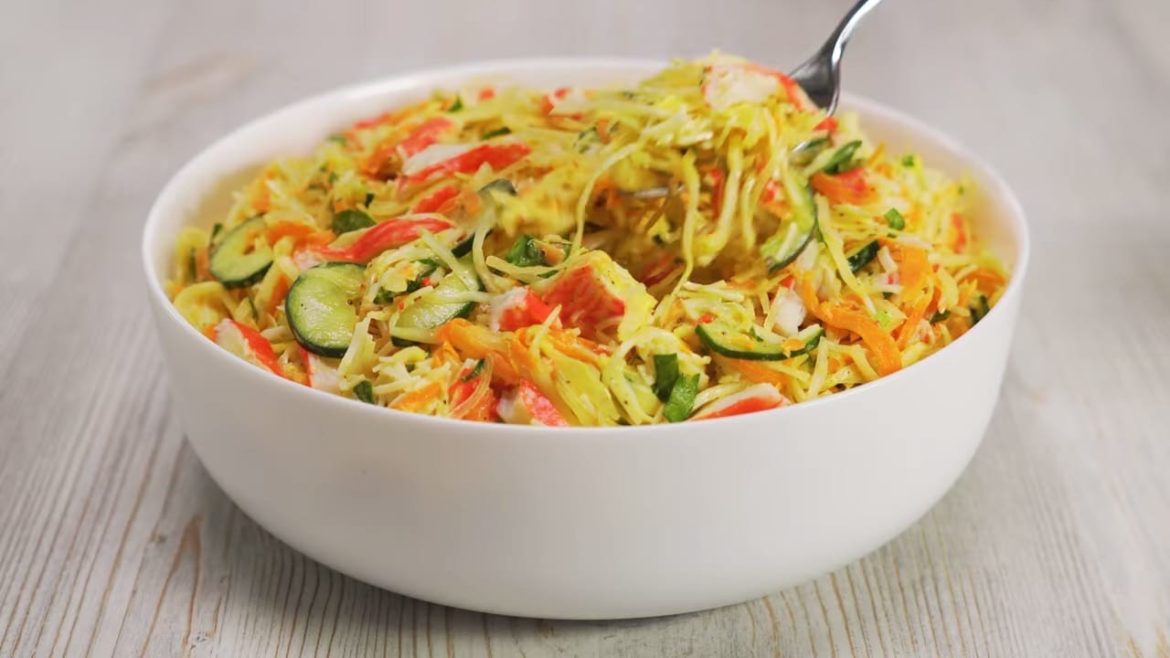 Ingredients
white cabbage – 21 oz /600 g
carrot – 5 oz /150 g
fresh cucumber – 6 oz /180 g
parsley leaves – 2 tbsp /5 g
surimi crab sticks – 14 oz /400 g
dijon mustard – 3 tsp
mayonnaise – 3 tbsp
lemon juice – 3 tbsp
olive oil – 4 tbsp
salt – 1 tsp
sugar – 1 tsp
ground black pepper – ½ tsp
You will need:
deep bowl
carving board
grater
cabbage shredder & slicer
Instructions
Shred the cabbage into very thin strips, divide the cucumbers lengthwise, remove seeds and cut into half rings, grate the carrot, cut the surimi sticks into small pieces, chop up the parsley.
Combine the mustard, mayonnaise, lemon juice, olive oil, salt, sugar, and black pepper in a bowl.
Into a deep bowl lay out the cabbage and carrot and crumble with hands for 2-3 minutes to have the cabbage a bit softened.
Add the sauce and combine well.
Add the cucumbers, surimi, and parsley, mix gently and serve your vegetable salad with surimi sticks to the table.
Did You Make This Recipe?
---
Bon Appétit