Oven-Baked Chicken Breast is on the menu in Book recipe, and we are going to teach you how to make this delicious recipe from scratch!
Tender and juicy chicken breast roasted with herbs de Provence and tomatoes on a bed of onion – no need in much effort to cook this amazing Italian dish for a festive table, romantic, or family dinner.
Follow along with the ???? recipes below????????????????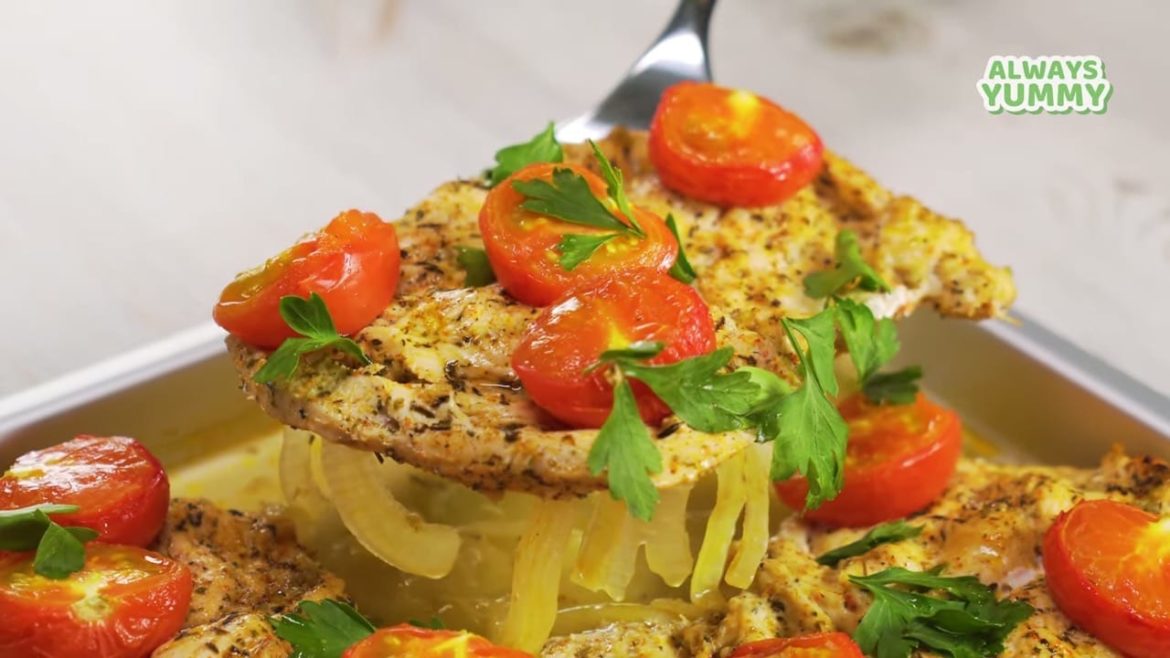 Ingredients
chicken breast – 35 oz /1 kg
herbs de Provence – 2 tsp
dried thyme – 1 tsp
bulb onion – 11 oz /300 g
sweet paprika – 1 tsp
garlic – 4 cloves
olive oil – 3 tbsp
lemon juice – 2 tbsp
medium tomatoes – 12 oz /350 g
fresh parsley – 1 tbsp
salt – 1 tsp
ground black pepper – ½ tsp
You will need:
carving board
deep bowl
baking sheet or dish
food foil
food film
meat tenderizer
Instructions
Divide each breast lengthwise and pound a bit with a meat tenderizer.
In a deep bowl combine the olive oil, lemon juice, minced garlic, salt, pepper, paprika, thyme, and Provence herbs, lay the chicken, and stir so that to coat each piece of chicken with the sauce and leave for 30 minutes.
Make a layer of the bulb onion cut in half rings in a baking dish, follow with a layer of chicken breast, lay the halved tomatoes on the chicken, and cover the dish with a foil.
Put the dish into the oven preheated to 400°F /200°C and bake the chicken for 10 minutes.
Then remove the foil and bake for 7-8 minutes more checking the readiness of the chicken, it may be cooking some minutes more or less depending on the thickness of pieces, it is important to not dry the chicken.
When serving sprinkle your Italian-style chicken fillet with the parsley.
Did You Make This Recipe?
---
Enjoy