Garlic Mussels are on the menu in Chef Anna Olson's amazing kitchen, and she is going to teach you how to make this delicious recipe from scratch!
Follow along with the recipes below!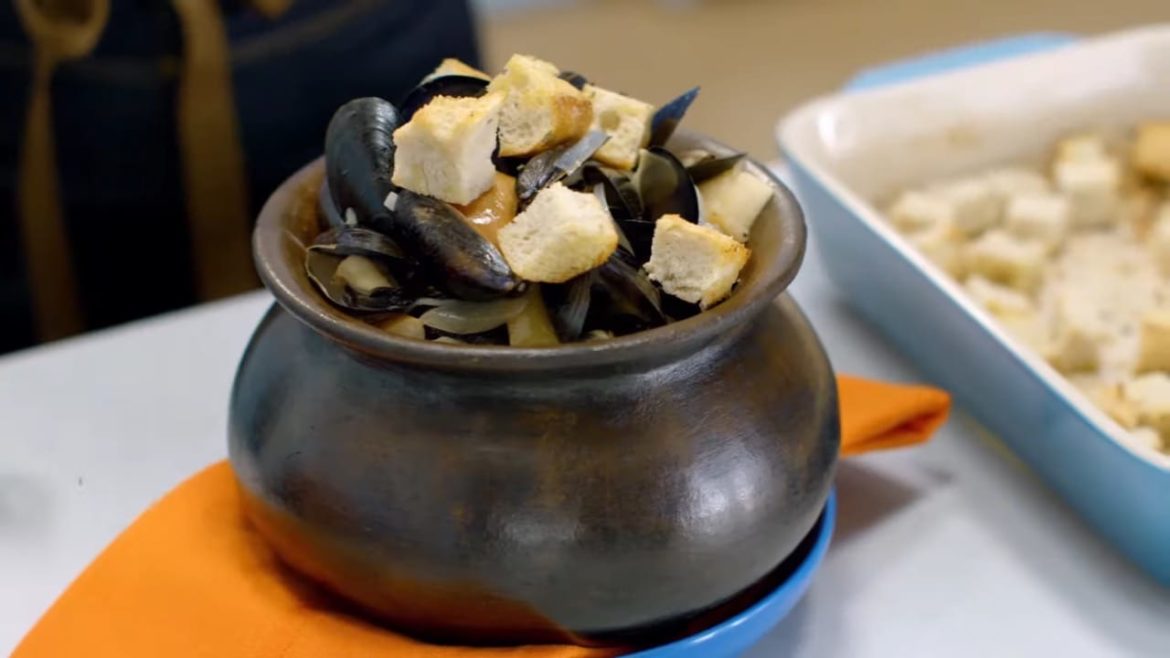 Ingredients
2 tart apples, cut into large dice (unpeeled)
6 peeled garlic cloves
60 mL (1/4 cup) vegetable oil, plus extra, for mussel pot
10 mL (2 tsp) chopped fresh thyme
salt & pepper
200 g (4 cups) diced day-old French bread (cut into 25 mm cubes)
1 medium cooking onion, sliced
25 g piece fresh ginger, peeled and sliced
1.8 kg (4 lbs) fresh mussels*, washed and de-bearded
250 mL (1 cup) apple cider or apple juice
Instructions
Preheat the oven to 190 °C (375 °F). Toss the diced apple with the garlic, oil, and thyme in an ovenproof baking dish and season lightly.
Bake, uncovered for about 30 minutes until the garlic starts to caramelize just a little. Spoon out the garlic and apples with a slotted spoon and set aside.
Add the cubed bread to the pan (or transfer to a large pan, if needed) and toss to coat. Toast the croutons, stirring once or twice in the same, 190 °C (375 °F) oven until they are golden brown, about 20 minutes. Set aside.
Preheat a large pot over medium-high heat and add the oil. Add the onions and sauté to soften them, about 3 minutes.
Add the garlic and apples and stir in to warm.
Add the mussels and stir gently for a minute. Cover and let sit for a minute. Add the cider, stir gently and cover, steaming until all of the mussels have opened.
Discard any unopened mussels. Transfer the mussels and all of the juices to a large platter and top with the toasted croutons. Serve immediately.
Notes
Serves 6 as an appetizer, 4 as a main course

Did You Make This Recipe?
Recipe video
---
Enjoy