Chocolate Orange Layer Cake is on the menu in Book recipe, and we are going to teach you how to make this delicious recipe from scratch!
It's the most wonderful time of the year! Yup, that's right, Halloween's a-comin' and I can't wait. See what happened when I went to Crumb's & Doilies HQ to bake a Halloween-inspired Chocolate Orange Cake. Never a dull moment at C&D!
Follow along with the ???? recipes below????????????????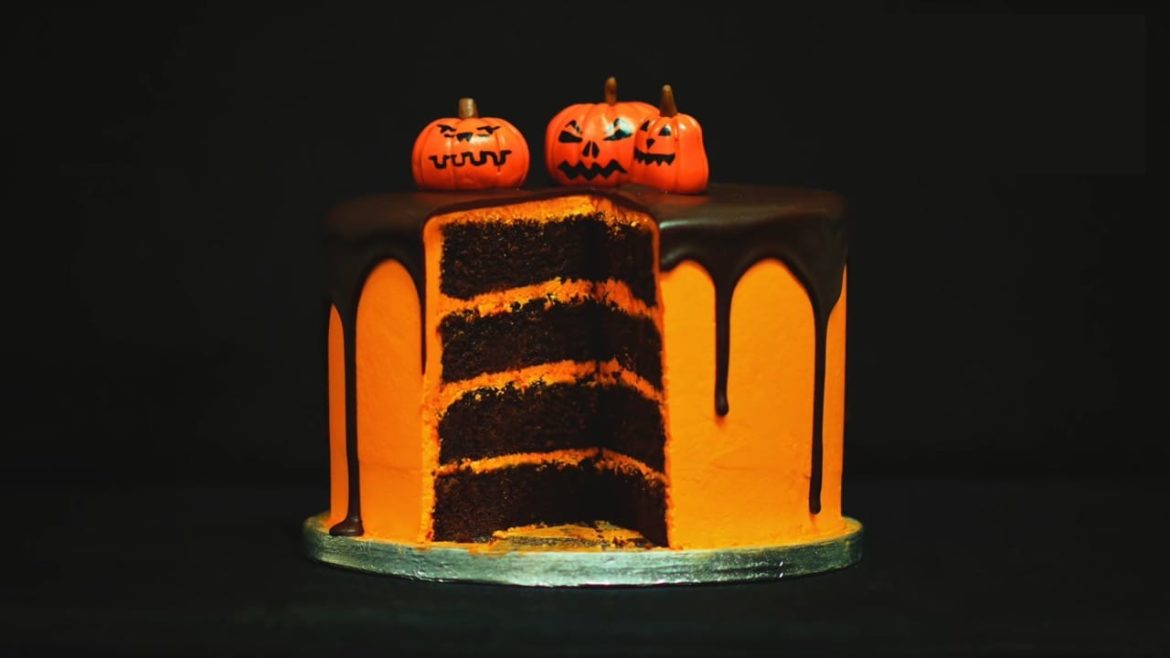 Ingredients
525g plain flour
550g caster sugar
95g cocoa powder
3/4 tsp salt
1.5 tsp bicarbonate of soda
zest of 3 oranges
5 lg free-range eggs
350ml coffee
350ml buttermilk
320ml vegetable oil
400g unsalted butter, soft
900g icing sugar, sifted
4-6 tbs freshly squeezed orange juice
250g dark chocolate, melted
Instructions
This year for Halloween I'm going to make a chocolate orange cake that will really look Halloween because it will be orange and dark, and I'll put a chocolate drizzle on the side.
To start, I'm going to make a chocolate orange sponge cake by starting with 525 grams of plain flour that I already have in my bowl and to that, I'm going to add 550 grams of powdered sugar followed by 95 grams of cocoa powder, then 3/4 teaspoon of plain salt and one and a half teaspoons of baking soda and then I'm going to zest three oranges using my very fine grater directly into my dry mixture.
I have collected all the zest and will now stir it all together with a whisk.
Now that all the dry ingredients are mixed, I'm going to turn my attention to the wet ingredients. Here I have 350 milliliters of cold coffee going into the bowl, followed by 350 milliliters of buttermilk, then 320 milliliters of vegetable oil, and then five large free-range eggs.
And then I put it all back into the bowl and stir it well until it all comes together and then I put all the dry ingredients into the wet mixture and mix it well until it's a nice smooth consistency and it looks good.
Now it's time to put the batter into cake pans, but I'll clean up a bit first because it's a bit messy.
I spread the batter evenly into the pans, which I greased and put in the oven. It's time to bake them at 165°C for about 25 minutes.
I'll let them cool and prepare the buttercream which will be a delicious orange buttercream starting with 400 grams of soft unsalted butter, and I'm going to beat it for about five minutes until it gets very pale and now I'm going to put confectioner's sugar in and I have 900 grams of sifted confectioner's sugar and I put half of it in and I beat it for three minutes and then I put the other half in and beat it again.
Now it's time to add orange juice because obviously this orange buttercream is going to turn orange on its own so I squeezed these oranges and I'm going to put five or six tablespoons and I'm going to whip it and now I'm going to make it orange and for that, I'm going to add orange coloring paste.
I'm going to need a good amount of it because I have a lot of frosting here and I want it to be really strong so I'm going to start by putting a teaspoon of it.
Because I have 8-inch pans, I'm going to cut them around, and then I'll be left with one delicious cake.
Now that they're all evened out, I'm going to decorate them but it's a bit of a mess in here so I'm just going to cut them up a bit. It looks like someone left tons of red food coloring everywhere. My buttercream is ready, my sponge looks delicious.
I'm just going to put a little bit of frosting on to stick my cake and then I'm going to take one of these nice soft layers and position it right in the middle with a little tap to stick it on and now I'm going to take a ball of frosting and spread it out and once I have a nice generous layer that goes all the way to the edges, it's time to continue with the other layers.
Alright, now that it's all straight, I'm going to give it what's called a crumb coat, that's a thin layer of frosting that's going to trap all the crumbs so that it's ready and clean for the last layer and I'm going to put it in the fridge for about half an hour to firm up a little bit, so it's been in the fridge for half an hour and it's nice and cold, so I'm going to give it a final, nice, smooth layer of this…
This wonderful orange buttercream and now I'm going to use my cake scraper to make the sides really smooth, I'm going to slide it down the sides of the cake, watch what happens and I'm going to watch, I'm tired of being in this kitchen, so let's get this done. I've got 250 grams of dark chocolate that I've melted and I'm going to pour it down the middle and then with a palette knife I'm going to push it all the way around the edge so that it flows down the sides.
I give the turntable a little tap to get it down the sides.
All I have to do now is put it in the fridge to set and I'll finish it.
Now that it's in the fridge, I'm going to finish it really quickly. I made pumpkins out of sugar paste and I'm going to put them on top.
And I made them with sugar paste and a little bit of tragacanth, and then I painted faces on them.
There you go, done, I love it, it's great Halloween.
Did You Make This Recipe?
---
Enjoy