Greek chicken gyro is on the menu in Book recipe, and we are going to teach you how to make this delicious recipe from scratch!
It pretty cold outside, it's still winter here. I miss the summer vibe, I miss my trip to Greece so I think this recipe will take me to the sunny beach of Zakinthos island.
This recipe has so much variety. You can mix in so many veggies, depends on your taste.
Follow along with the ???? recipes below????????????????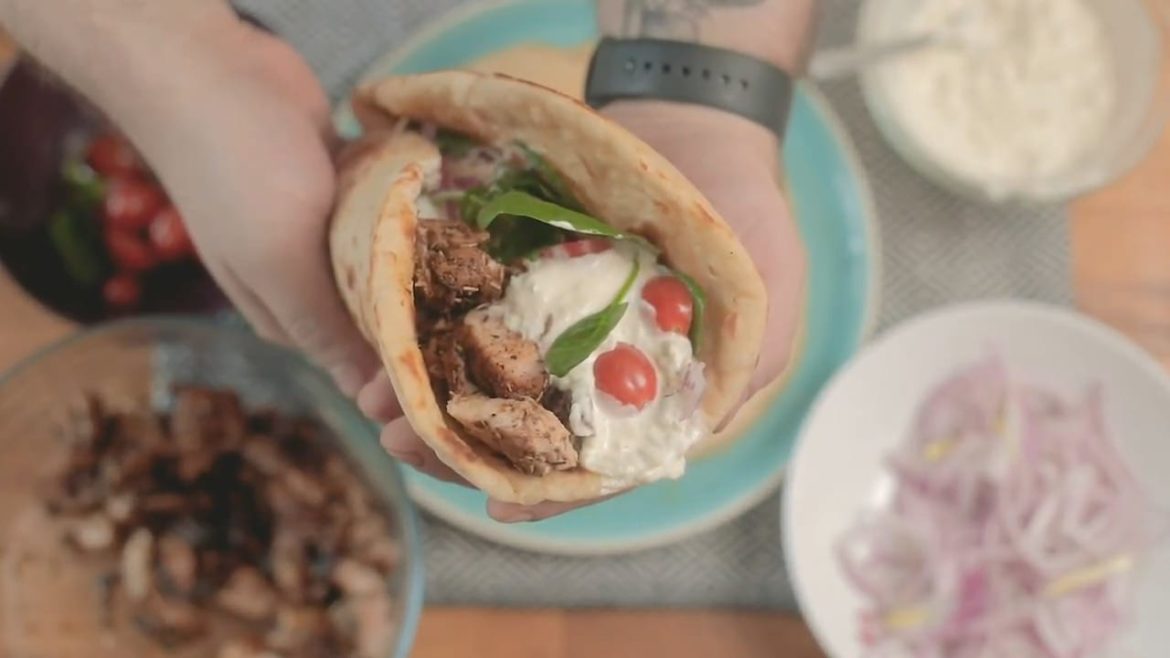 Ingredients
For Tzatziki sauce
1cup ( 200g ) greek yogurt
1cup ( 200g ) grated cucumber
1tbsp ( 15ml ) white wine vinegar
pinch of salt
juice from half a lemon
3tbsp ( 45ml ) good extra virgin olive oil
For Chicken marinade
4 boneless chicken thighs
1 tbsp (7g ) paprika
1 tbsp (7g) cumin
1 tbsp (7g) rosemary
1 tbsp (7g) thyme
1 tsp (3g ) salt
1 tsp black pepper
3 tbsp (45ml ) olive oil
For Gyro
bunch of baby spinach
cherry tomatoes
red onion
Instructions
Combine all the chicken marinade ingredients with the chicken and massage it well. Cover and let it infuse all the aromas for a minimum of 2h ( best 12 h ).
Let's make the tzatziki now. Peel the cucumbers and grate them in a bowl. Add a pinch of salt and 1 tbsp of white wine vinegar and mix.
Let them remove water for 10 minutes and then squiz out the excess water with a clean kitchen towel or with a strainer as I did.
In a clean bowl add the yogurt, cucumber, juice of half a lemon, salt, and extra virgin olive oil. The original recipe required fresh dill ( depends on taste )
Now let's cook the chicken. On a frying pan on medium-high heat add the chicken thigh with the skin down and cook it.
After chicken is done, let it rest for 10 minutes before cutting it into big chunks
Cut the veggies now. Onions Julien, cherry tomatoes in half, and remove the big stem from baby spinach
Now combine everything into a loaf of fresh greek pita bread and enjoy it.
Did You Make This Recipe?
---
Enjoy