Pumpkin Cakes are on the menu in Book recipe, and we are going to teach you how to make this delicious recipe from scratch!
Follow along with the ???? recipes below????????????????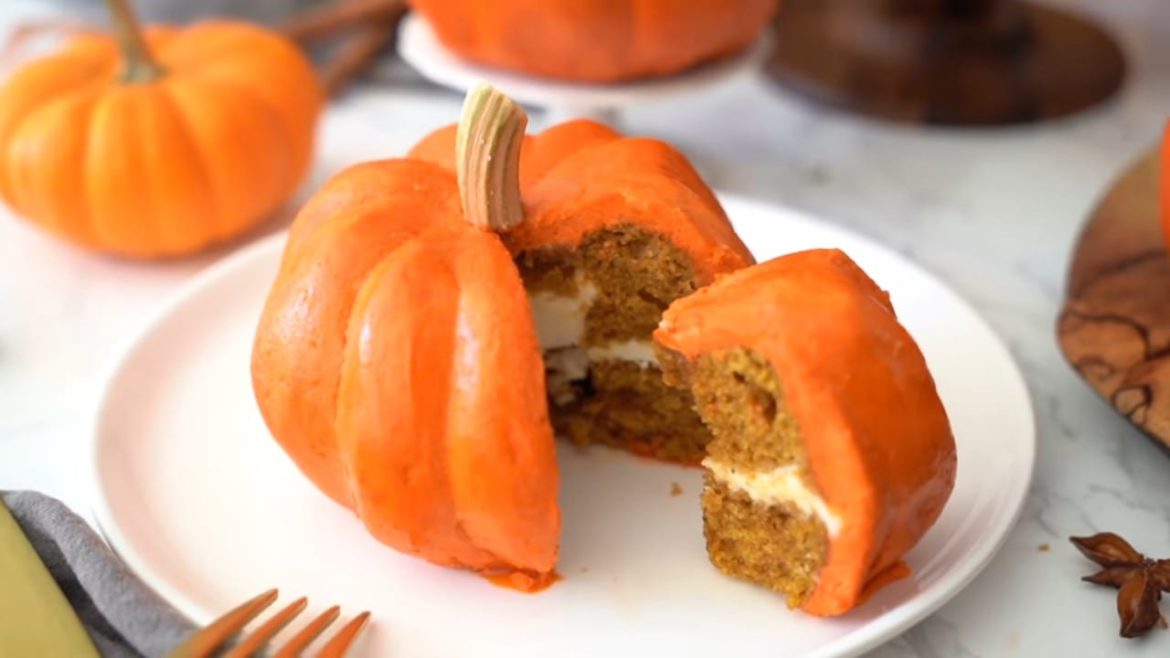 Ingredients
For the cake
3 cups all-purpose flour
1 teaspoon baking powder
1 teaspoon baking soda
2 teaspoons cinnamon
1/4 teaspoon ginger
1/4 teaspoon allspice
1 pinch ground cloves
1 pinch of nutmeg
2 cups granulated sugar
1/4 cup lightly packed brown sugar
1/2 cup melted coconut oil
1/4 cup vegetable oil
1/3 cup plain yogurt
1 can 15 oz. pumpkin puree
1/2 teaspoon salt
3 large eggs
For the cream cheese frosting
8 oz. cream cheese, softened
2 cups powdered sugar
1 teaspoon vanilla extract
For the buttercream
1 lb. confectioners' sugar
1 cup salted butter at room temperature
1/4 cup milk, add slowly until desired consistency is reached
1 teaspoon vanilla extract
10 drops of orange food coloring The amount of food coloring will depend on the brand used and the color desired.
Instructions
For the cake
Preheat oven to 350 °F. Butter and flour your mini-bundt pan.
Cream together the oils and sugar, then add the yogurt and mix until combined.
Stir in the eggs one at a time, making sure one egg is incorporated into the mixture before adding the next.
In a separate bowl, sift in remaining dry ingredients.
Stir dry ingredients into sugar and egg mixture in three batches, alternating with pumpkin purée.
Spoon or pipe batter into pans, filling pans 2/3 full.
Bake at 350° for about 20 minutes, or until a wooden skewer inserted in the center comes out clean.
Let cool in the pan for about 10 minutes before inverting onto a wire rack.
For the cream cheese frosting
Beat cream cheese in a bowl until smooth. Add vanilla and powdered sugar and mix until ingredients are well incorporated and desired consistency is reached.
For the buttercream
beat butter until light and fluffy, add vanilla, then slowly add sugar. Add milk, a few tablespoons at a time, until the desired consistency is reached. You will want a stiffer buttercream, so you can use less milk. Finally, add food coloring.
Assembly
Cut out the bottom of the cakes (less if you want tall pumpkins, more if you want rounder ones).
Place or spread cream cheese frosting on the bottom of a mini bundt cake and sandwich it.
Top with orange buttercream and shape into a pumpkin. (I cut out a yogurt cup to make my tools. The best tools were a rounded "V" to scrape out the hollows and a straight edge to smooth out the sides.)
I used an actual pumpkin stem, but you can make one with fondant or even very thick buttercream.
Notes
If you fill the mini-bundt pans halfway, there will be enough batter to make about 10 pumpkins. I ended up cutting off a large portion of the bottom of each cake to make a rounder pumpkin. The excess makes a great snack or can be used to make pumpkin cake pops!
I used real pumpkin stems for these cakes to make them look as realistic as possible. I simply bought a "Cinderella" pumpkin because it has a long stem, then cut a few segments with a garden mower.
You can also make the stems with fondant or heavy buttercream, but it won't be as realistic and will take more time.
The key to decorating these cakes is to cool them after applying and smoothing the buttercream. Once cooled, you can make a few sculptures and cool them again if the cake gets too soft.
Did You Make This Recipe?
These delicious, delightful, and moist pumpkin cakes are filled with all your favorite fall spices have a layer of cream cheese frosting inside, and just so happen to look like little pumpkins!
I thought these would be really cute as part of a centerpiece at dinner, mixed in with real pumpkins and Autumn leaves. Dessert could be right in front of you without you having any idea!
---
Enjoy
See also : How to Make Pumpkin Cake Topper