Carrot cake is on the menu in Book recipe, and we are going to teach you how to make this delicious recipe from scratch!
Follow along with the ???? recipes below????????????????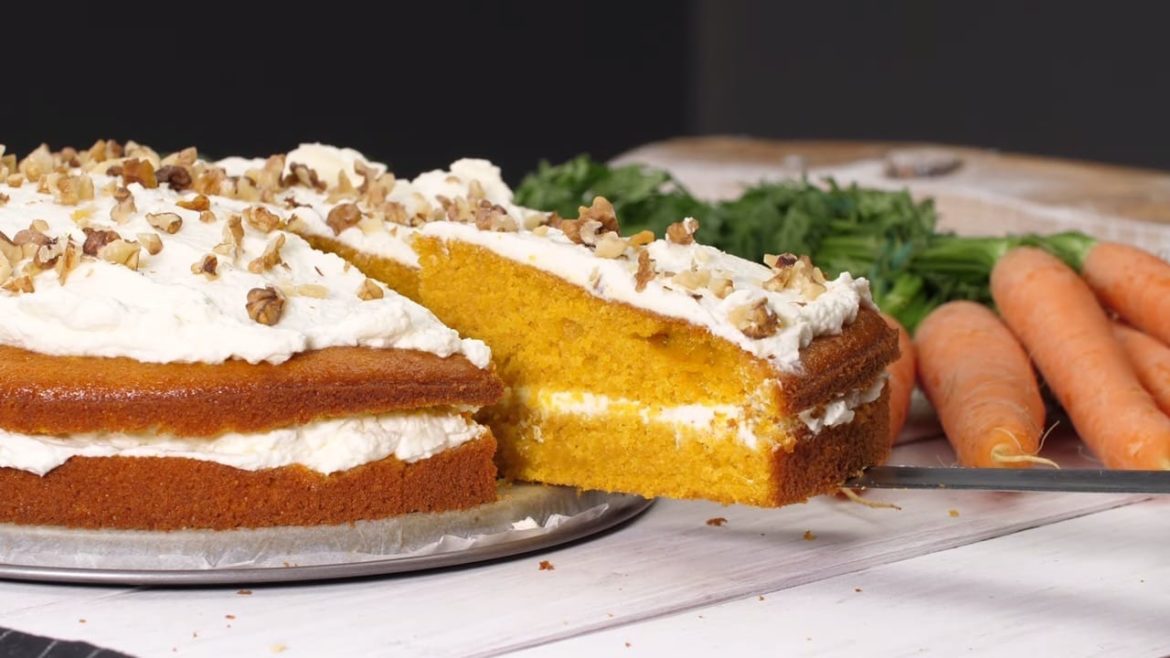 Ingredients
250 ml | 1 cup vegetable oil (I used rapeseeds oil)
200 g | 1 cup caster sugar (regular sugar is also fine)
4 large eggs
3 large carrots (about 350g | 0,77 lb)
300 g | 2,1 cups all purpose flour
2 tsp baking powder
120 ml | 1/2 cup whipping cream (cold)
225 g | 8 oz mascarpone cheese
50 g | 1/2 cup powdered sugar
1 tsp vanilla extract
walnuts to garnish
Instructions
Make sure that all ingredients for the cake have room temperature. Prepare a round cake tin 25 cm | 10" lined with parchment paper and preheat oven to 180 °C | 350 °F.
Peel your carrots and slice them. The smaller pieces of carrots, the easier work for blender later.
In high bowl or food processor place vegetable oil, sugar, eggs and sliced carrots. Blend it until consistency is smooth.
Stir baking powder with flour and sift into the carrot mixture.
Mix the batter with spatula or whisk just to combine ingredients, no longer.
Pour the batter into the baking tin and bake for 35minutes, or until a toothpick comes out dry.
Cool the cake completely.
Prepare frosting. Use an electric mixer to whip cold cream. When it's almost ready, add powdered sugar in. When sugar is well combined, spoon mascarpone cheese - one by one, pour vanilla extract and mix slowly. After a short while, you should achieve desired consistency.
Cut the cake horizontally - I used thread. Spread half of the frosting on the lower layer, cover with the second layer, and spread the rest of the frosting on the top of your cake. I used a handful of crushed walnuts to sprinkle the top.
Share with friends and family!
Did You Make This Recipe?
---
Enjoy