Layered Bechamel Pasta is on the menu in Book recipe, and we are going to teach you how to make this delicious recipe from scratch!
I'm Obi from Middle Eats and I'm on a mission to show you how to cook delicious food from across the whole of the Middle East. Today I'm going to be showing you how to make Makarona bel Bechamel, a staple in all Egyptian homes.If you want to request a video for a Middle Eastern Recipe, please leave me a comment.
Follow along with the ???? recipes below????????????????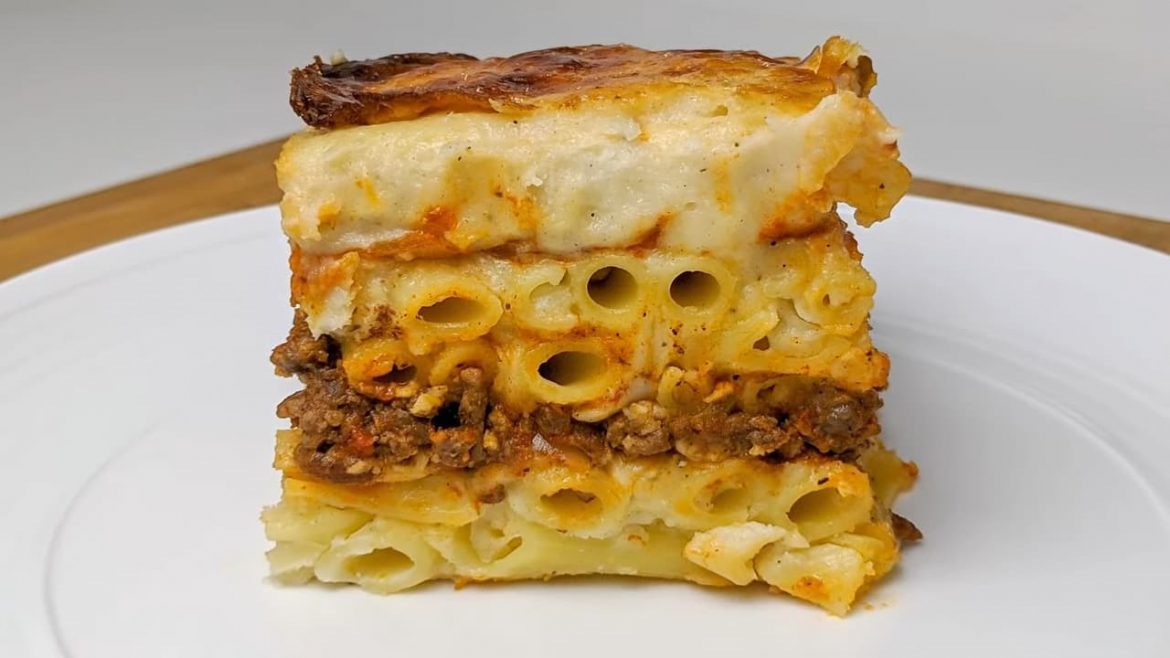 Ingredients
Tomato Sauce:
1l - 33.8 fl oz of crushed tomatoes (2 cans of tomatoes or 1 kg tomatoes blended)
1 Onion
1 1/2 tsp salt
3/4 tsp Black Pepper
1 tbsp Butter
Bechamel:
250g - 8.8 oz Plain Flour
250g - 8.8 oz Butter
1.5l - 50.7 fl oz Cold Milk
2 1/2 tsp Salt
1 tsp White Pepper
Hint of nutmeg
Mince Meat:
1 tbsp Butter or Oil
1 medium Onion
500g - 17.6 oz Minced Beef
1 Garlic Clove
3/4 tsp Salt
1/2 tsp Pepper
Instructions
Tomato Sauce:
Prepare your crushed tomatoes by blending 2 cans of tomatoes or 1kg of tomatoes in a blender
Melt your butter in a stainless steel pot over high heat, and add your large diced onions
Cook for a few minutes until the onions turn translucent
Add your crushed tomatoes to the pot and stir
Add in 1 1/2 tsp salt and 3/4 tsp pepper and mix
Bring to a boil and then cover with a lid, leaving it slightly ajar
Leave to simmer for 45 minutes on a medium to low heat
The sauce is ready when reduced to a third of the original amount
Mince Meat:
Add oil or butter to a pan on high heat and crush your garlic clove into it
After 30 seconds add your onions, salt, and pepper then stir
Cook your onions for around 5 minutes until cooked through and move to one side of the pan
Add your minced beef to the empty part of the pan, pushing it down so it has good contact with the pan
Cook your beef for around 3 minutes then flip
After 3 more minutes break up your beef into small chunks using a wooden spoon
Stir the onions into the beef and cook for a further 5 minutes until brown and cooked through
Bechamel:
In a large non-stick pot melt all of your butter on a high heat
When melted add all of your flour and mix until all the butter has been absorbed
You are looking to form a wet dough that clumps together, if your mixture is looking too dry add more butter, if too dry add more flour.
Cook your dough for around 5 minutes until it starts to resemble wet sand
Start adding your milk 150ml at a time, add the milk and mix it into the dough until fully combined
Keep adding your milk in batches of 150ml until you have mixed all the milk into the dough. You should be left with a thick bechamel. If your mixture is too doughy or dry, add more milk a little at a time.
Add your salt and pepper as well as a few small grates of nutmeg. Leave to cool before using.
To assemble:
Cook your penne pasta to the directions on your packet, drain then set aside.
In a small mixing bowl add your meat and half of your tomato sauce.
Mix the meat and the sauce till the meat is coated, feel free to add more sauce but make sure you keep 3-4 tablespoons aside as you will need these later
In a large mixing bowl add your pasta and 2/3rds of your bechamel and mix to combine. Press the bechamel into the pasta so it fills the tubes
In an 8 X 13-inch baking dish, put half of your pasta and press it into a flat layer. Make sure not to leave any gaps and compress it well
Add your meat mixture and flatten until level, press down to compress
Add the rest of your pasta in an even layer on top of the meat and press flat. Fill in any gaps all the way to the edge
Add the remaining tomato sauce and spread thinly over the pasta
Finally, cover the tomato sauce with the rest of the bechamel you set aside earlier, spreading it into an even layer and smoothing the top
Beat your egg and brush or pour over the top
To cook:
Preheat your oven to 180c or 350f
Place the dish into the center of the oven and cook for 45 minutes until golden brown on top
Remove from the oven and let cool for at least 30 minutes
Cut into 8-10 portions and enjoy
Did You Make This Recipe?
---
Enjoy
Let us know what you think of today's Layered Bechamel Pasta tips, tricks, and hacks!