Libyan Chorba is on the menu in Book recipe, and we are going to teach you how to make this delicious recipe from scratch!
Today we're making Chorba, a Libyan soup that is made with lamb & mint. This soup has a wonderful hearty flavor and texture, and it's one of the most popular soups to eat during Ramadan.
Follow along with the ???? recipes below????????????????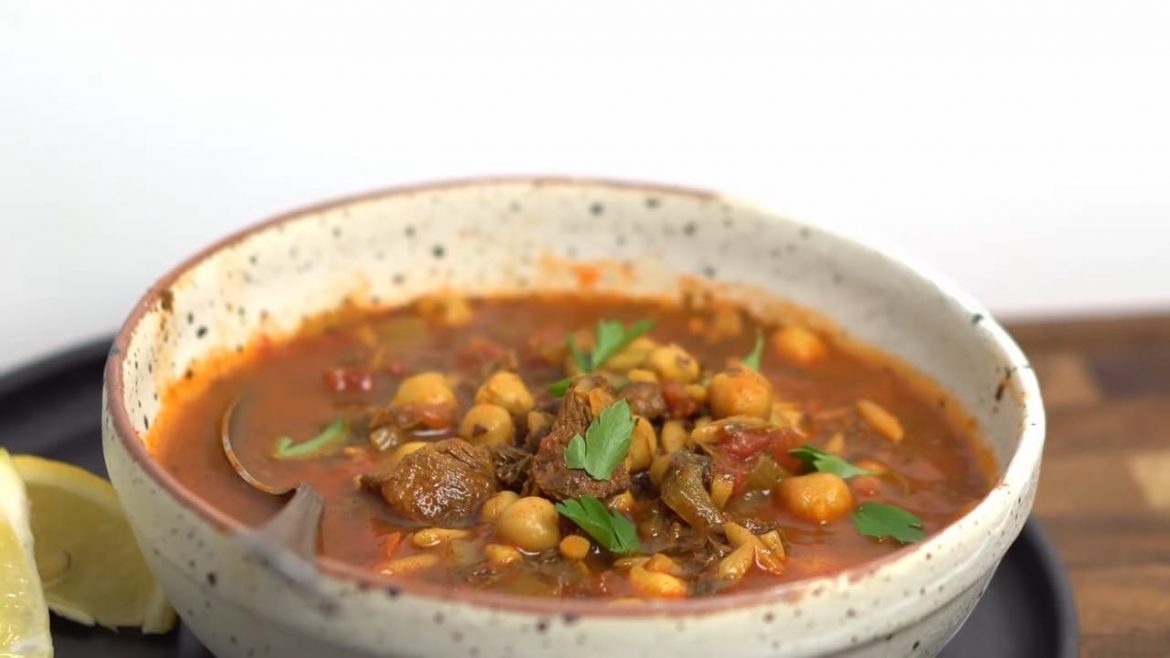 Ingredients
1.5l (50 fl oz) water
300g (10.5 oz) lamb leg steaks (or substitute with a tender cut of beef)
400g (14 oz) canned chopped tomatoes
400g (14 oz) canned chickpeas
75g (2.75 oz) orzo
25g (1 oz) fresh mint
25g (1.5 Tbsp) tomato paste
2 medium onions
1/2 cup parsley (about 20 stalks)
1 Tbsp Olive Oil
1 Tbsp Butter or Olive Oil
2 1/2 Tsp salt
2 Tsp Mint
1 Tsp turmeric
1 Tsp paprika
1/2 Tsp boharat or 7 spice
1/2 Tsp black pepper
Instructions
To make the Chorba:
Dice your onions into a medium-small dice. Slice the meat into small cubes (1.5 X 1.5cm). Remove the parsley and mint leaves from the stalks and roughly chop them.
Add 1 Tbsp olive oil to a pot over high heat. When it is heated and shimmering add the diced lamb
Sear the lamb for 5-8 minutes until browned all over and there is some browning in the pot
Add the diced onion to the pot and a few small splashes of water
Cook the onion for 5-8 minutes until soft and tender
Add the tomato paste, salt, turmeric, paprika, black pepper, and Bharat, then mix well. Cook this for 1-2 minutes
Add the canned tomatoes, chickpeas, and water and bring the pot to a boil
Add the dried mint, then turn the heat down to medium-low and let the pot simmer for about 40 minutes
Once the time is up, check the meat for doneness
 When the meat is cooked, add the remaining butter or oil to a pan, and add in the orzo
Toast this for a few minutes until it turns a light golden color, then add it into the soup
Add the chopped parsley and mint, and mix well. Cook the soup for about 10 minutes or according to the instructions of the orzo pasta, mixing the pot occasionally
Check the orzo pasta for doneness, and serve the soup once done
Squeeze on plenty of fresh lemon juice just before serving
Did You Make This Recipe?
---
Enjoy
Let us know what you think of today's Libyan Chorba tips, tricks, and hacks!