Mongolian Meatballs are on the menu in Book recipe, and we are going to teach you how to make this delicious recipe from scratch!
Despite its name, Mongolian meatballs have nothing to do with Mongolia. The dish came from Chinese restaurants in the USA following Mongolian beef (see the recipe ​) and Mongolian chicken. Meatballs fried on all sides in a glaze sauce have already become a classic. This dish is filled with mouth-watering Asian tastes. You can cook it with ramen noodles or serve as we have on cabbage leaves. And for a party serve this meal as an excellent appetizer pinned with a toothpick.
Follow along with the 📝 recipes below👇🏾👇🏾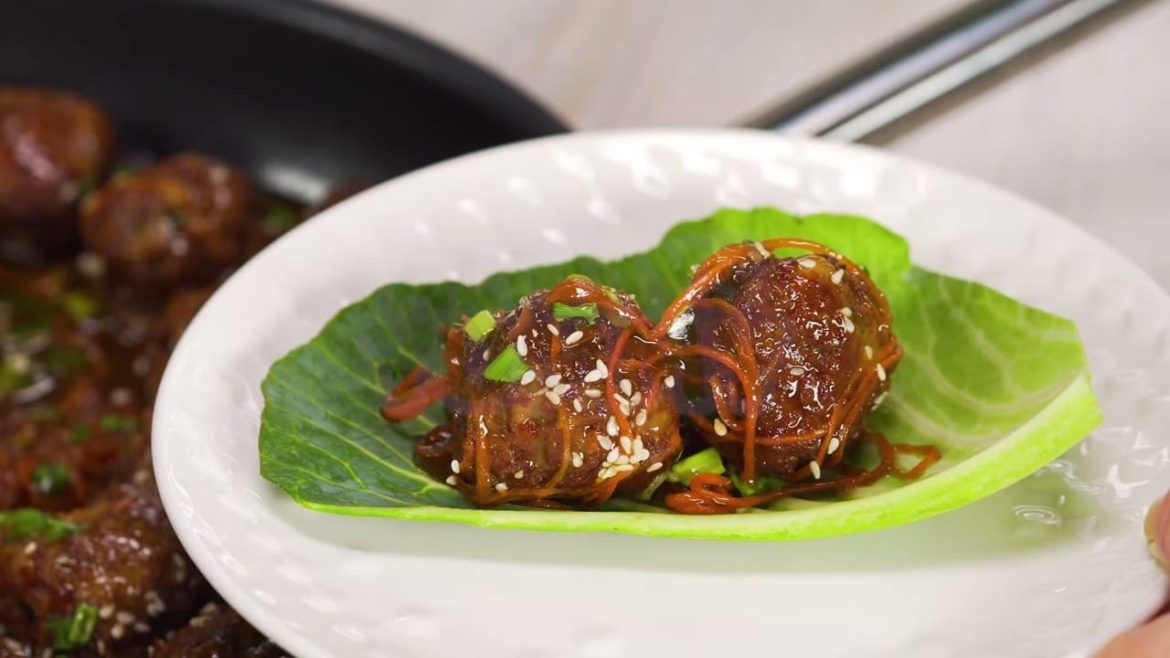 Ingredients
minced beef – 28 oz /800 g
6 fresh cabbage leaves
1 egg
garlic – 2 cloves
big carrot – 5 oz /150 g
bread crumbs – 3 oz /90 g
green onion – 4 stalks
chopped up ginger – 2 tsp
meat broth or water – ½ cup /125 ml
soy sauce – ½ cup /125 ml
brown sugar – 2 oz /70 g
vegetable oil – 2 tbsp
salt – 1 tsp
ground black pepper – ½ tsp
red chili flakes – 1 tsp
sesame seeds – 1 tsp
water – 4 cup /1 l
You will need:
pan with a lid
stockpot
bowl
Instructions
Into a deep bowl lay out the minced meat and add the bread crumbs, an egg, 2 stalks of chopped green onion, minced garlic, ½ tsp of salt, and black pepper, mix the mince.
Form meatballs out of the mince and fry in a pan with 1 tbsp of vegetable oil until golden brown on all sides for 5-6 minutes over medium heat.
Take the meatballs out of the pan into a bowl and pour off extra fat out of the pan.
Add the chopped-up ginger, sugar, broth, soy sauce, chili flakes into the pan and bring to a boil.
Lay out the meatballs and grated carrot into the pan, cover with a lid and braise over low heat for 10 minutes.
Bring to a boil 4 cups/1 l of water in a stockpot, add ½ tsp of salt and lay the cabbage leaves for a minute, take the leaves out and put on paper towels to dry.
Switch the heat of the pan off, sprinkle with green onion and sesame seeds.
Lay out the Mongolian meatballs onto the cabbage leaves and serve to the table.
Did You Make This Recipe?
---
Bon Appétit