You know how much I adore one-pan recipes…but did you also know how much I adore CHEESE?! This dish is deliciously cheesy, yet not too cheesy that it makes you sick. It has the perfect balance of saltiness and creaminess. It's sooo simple yet soo yummy…which is what we all love right?!
One Pan Creamy Three Cheese Tortellini Recipe
Follow along with the ???? recipes below????????????????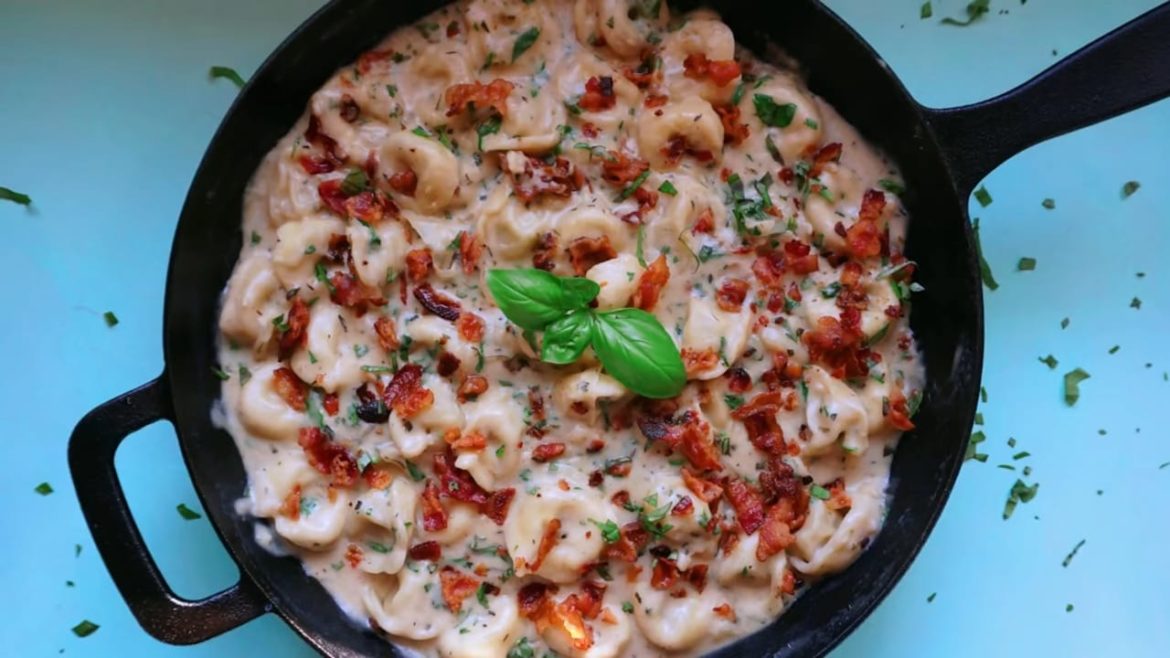 Ingredients
20 Ounces Refrigerated Cheese Tortellini
7 Slices Bacon
1 Medium Onion, Sliced Thin
3 Cloves Garlic, Finely Minced
2 ½ Tablespoons All-Purpose Flour
¾ Cup Chicken Stock
1 ½ Cups Whole Milk
2 Teaspoons Italian Seasoning
¼ Teaspoon Cayenne Pepper
Salt & Pepper to Taste
2 Tablespoons Fresh Chopped Basil
½ Cup Mozzarella Cheese, Shredded
½ Cup Parmesan Cheese, Shredded
¼ Cup Asiago Cheese, Shredded
1 Cup Spinach, Chopped
Instructions
In a medium cast-iron skillet, cook bacon until crispy. Transfer to a paper towel-lined plate to drain and set aside. Remove all but 1 tablespoon of bacon grease from the pan.
In the same pan, add the onion. Saute for 3-5 minutes or until softened. Add garlic and cook an additional minute.
Add flour, and cook for 2 minutes, continuously stirring to prevent burning.
Add chicken stock and milk and whisk vigorously to break up any clumps. Reduce heat and bring to a slow simmer. Season with salt, pepper, Italian seasoning, cayenne pepper, and freshly chopped basil.
Add mozzarella, Asiago, and Parmesan cheese and mix to combine.
Cook tortellini in generously salted boiling water according to package instructions. Drain and add to the cheese sauce.
Add chopped spinach and mix to combine. Top with crumbled bacon.
Did You Make This Recipe?
---
Enjoy