Oriental Khalta rice is on the menu in Book recipe, and we are going to teach you how to make this delicious recipe from scratch!
We're making an essential dish for a Middle Eastern feast, Oriental Khalta rice. This dish features Caramelised and Toasted rice, that's topped with delicious liver pieces and crunchy almond slices. It's got a perfect balance of sweet and savory flavors.
Follow along with the ???? recipes below????????????????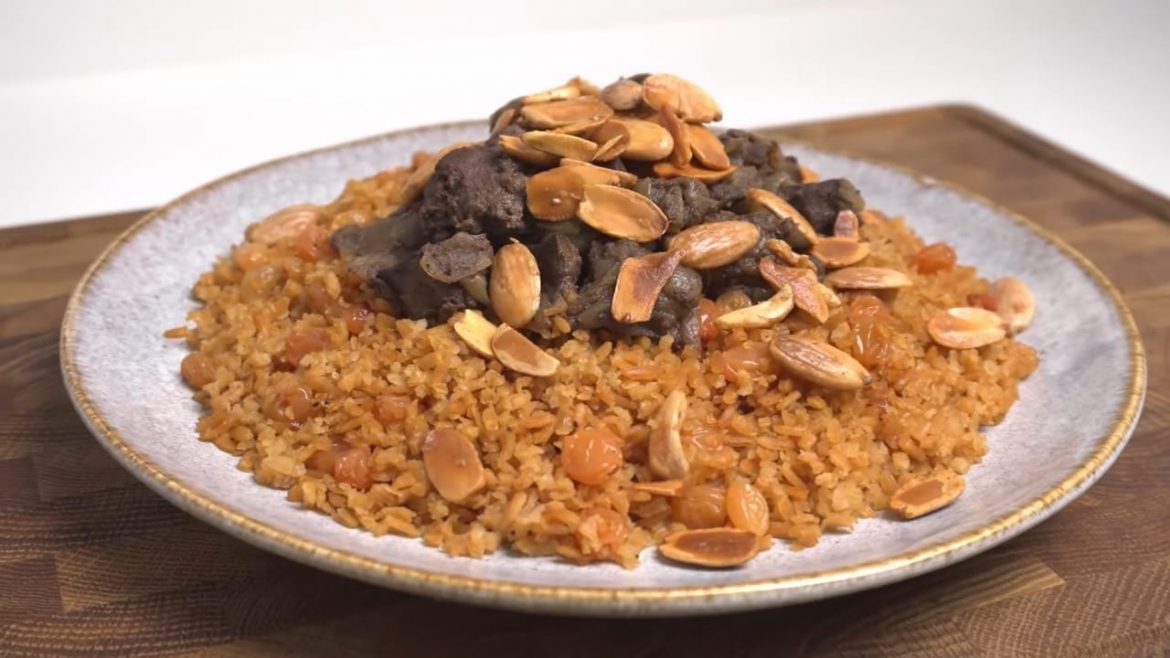 Ingredients
Rice:
3 Cups Egyptian or Calrose rice (Medium Grain)
4 Tbsp Sugar
3 Tbsp Butter
3 Tsp Salt
1/2 Tsp Pepper
700ml Beef or Chicken stock
Liver:
2 Large - 6 small onions
1 Kg (35 oz) of Chicken livers
2 small pieces of mastic
1 Tbsp Butter
2 Tsp salt
1/2 Tsp Pepper
Toppings:
0.5 - 1.5 Cups Blanched almonds (You can add as much or little as you want or substitute with any other nut)
0.5 - 1 Cup Golden Sultanas or Raisins (Add as much or little as you want)
1 Tbsp Butter
Instructions
To prepare the rice:
Soak your sultanas in room temp water for an hour then rinse and drain
Wash your rice thoroughly until the water runs clear then place in a mixing bowl
Melt the butter and add to the rice, mix thoroughly until well combined
Spread your rice out onto an oven dish in an even and thin layer (use 2 trays if you must) then place the tray in a 180c (350f) oven to bake for 40 minutes.
Every 10 minutes remove the tray and stir it, even it out into a thin layer and place back in the oven. Remove when the rice is evenly golden
Add the sugar to a large pot on medium-high heat and let it melt into a caramel
Allow the caramel to foam up and burn ever so slightly, before adding a small amount of stock and dissolving the caramel
Add in your rice, sultanas, salt, and pepper, then top up with stock/water until the liquid is 2.5cm or 1in above the surface of the rice
Turn the heat up to high, bring to a boil then cover with a tight-fitting lid for 5 minutes
Once the boiling sound stops, open the pot and check the water has disappeared, if so replace the lid and turn the heat down to low
Allow the rice to steam for 20 minutes until cooked through
Fluff your rice up with a fork and serve
Do not at any point mix the rice with a spoon once it has boiled, otherwise, it may break.
To cook the liver:
Slice your livers into bite-sized chunks, 3-5 per pair of livers. Then rinse them if you want to
Dice your onions into a medium dice
In a pan add the butter and mastic and allow to melt until bubbly over high heat
Add the liver to the pan and sear it for 2-3 minutes per side, do this about 3 times total
Once 70% browned add the onions to the pan as well as salt and pepper
Mix thoroughly and allow to cook for 10 minutes then check the liver for doneness
Reduce the sauce until slightly thickened then serve immediately
To toast the almonds:
Slice your almonds in half along their length
Place on a foil-lined tray and bake in the oven at 180c (350f) for 8-12 minutes until browned
Remove from the tray and allow to cool
Before serving, toss them in some melted butter until glossy and toasty
To assemble:
Place a bed of rice on a serving dish
Top the rice with a pile of the liver and the pan sauce
Sprinkle over the toasted almonds and serve
Did You Make This Recipe?
---
Enjoy
Let us know what you think of today's Oriental Khalta rice tips, tricks, and hacks!