Homemade Peanut Butter Cookie Cakes are on the menu in Chef Anna Olson's amazing kitchen, and she is going to teach you how to make this delicious recipe from scratch!
Follow along with the recipe below!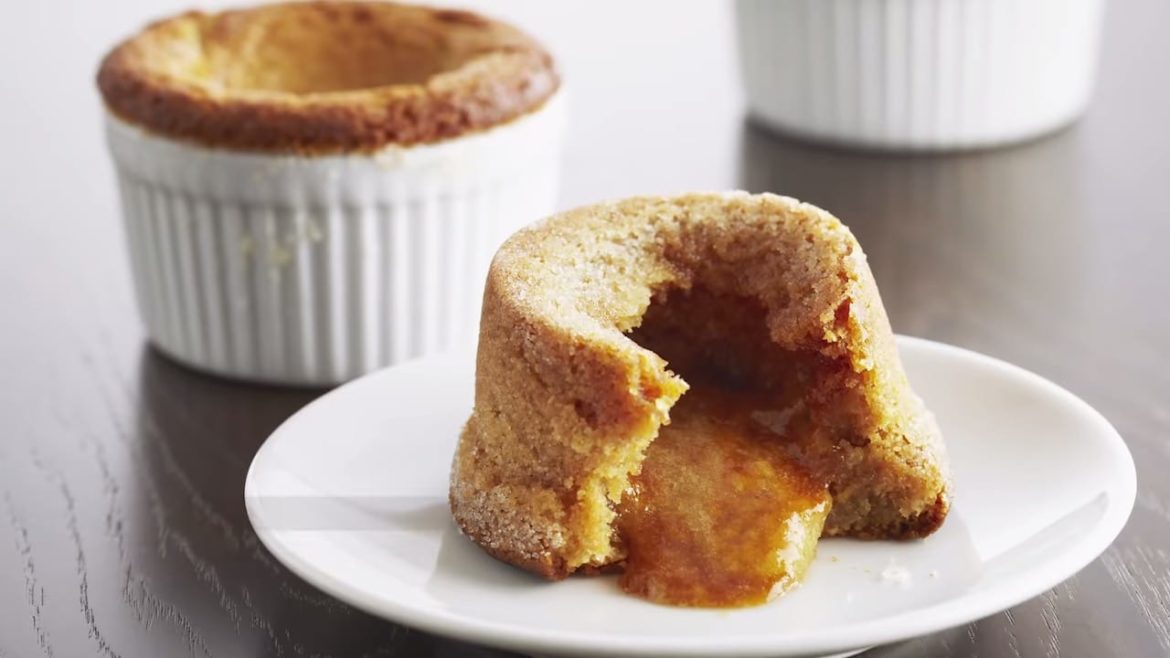 Ingredients
Caramel
3 Tbsp (45 ml) water
1 cup (200 g) sugar
1 Tbsp (15 ml) white corn syrup
1/4 cup (60 ml) whipping cream
½ cup (115 g) unsalted butter
Cakes
½ cup (115 g) unsalted butter
½ cup (100 g) granulated sugar
½ cup (100 g) packed light brown sugar
2/3 (165 g) cup creamy peanut butter (conventional or pure is fine)
2 large eggs at room temperature
1 tsp (5 ml) vanilla extract
1 cup (150 g) all purpose flour
1 tsp (3 g) baking powder
¼ tsp (2 g) baking soda
¼ tsp (2 g) salt
Instructions
For the caramel, bring the water, sugar, and corn syrup to a boil over high heat and continue to boil, uncovered and occasionally brushing the sides of the pot with water, until it turns a light amber colour. Remove the pot from the heat and carefully whisk in the cream and butter (watch out for the steam). Set aside to cool to room temperature, then chill the caramel until firm. Use the caramel to fill the cakes once completely chilled.
For the cakes, grease 6 individual 5-ounce ramekins and coat them with sugar, tapping out any excess.
Cream the butter with the granulated and brown sugars well, until smooth and light. Beat in the peanut butter and then add the eggs one at a time, beating well after each addition. Beat in the vanilla.
In a separate bowl, sift the flour, baking powder, baking soda, and salt. Add this to the peanut butter batter and stir until evenly blended. Divide the batter evenly between the 6 prepared ramekins, holding back about ½ cup of the batter to spoon over the caramel filling. Make an impression in the center of the batter in each dish and spoon in about 2 Tbsp of the chilled caramel. Top the caramel with the remaining batter, being sure that the caramel is completely covered. Wrap the dishes and freeze until the batter is firm at least 3 hours, or up to a week in advance.
To bake, preheat the oven to 400 F (205 C). Unwrap the ramekins and place them on a baking tray and bake them from frozen for 20 minutes, until the top of the cakes are domed and an even golden brown. Let the cakes cool for just 5 minutes, then run a knife or spatula around the inside of each ramekin to loosen and tip out onto a plate.
Notes
The batter for these desserts need to be frozen before baking, so bear that in mind in terms of preparing ahead of time.

Did You Make This Recipe?
Recipe video
---
Enjoy