Spanish juicy roasted are on the menu in Book recipe, and we are going to teach you how to make this delicious recipe from scratch!
What can be easier – laying all ingredients into a baking dish, placing into the oven and as a result we have a tastiest roast for a family dinner or festive table that is perfectly fitted with a glass of red wine.
Follow along with the ???? recipes below????????????????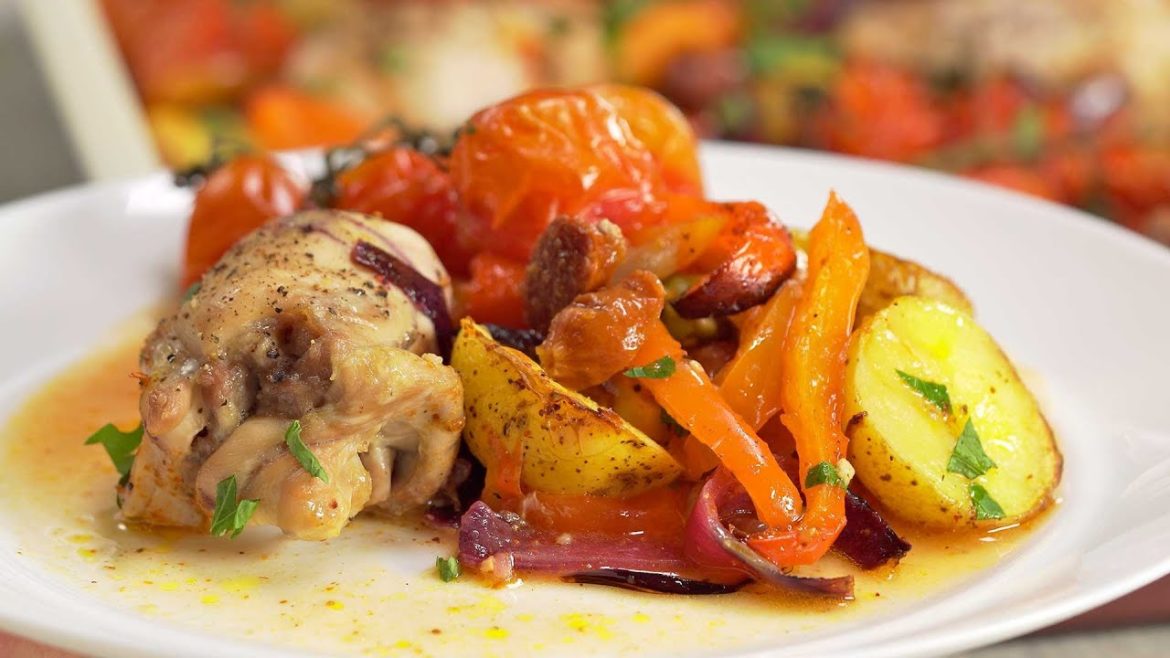 Ingredients
potato, small preferable – 18 oz /500 g
chorizo – 5 oz /150 g
red onion – 10 oz 300 g
8 chicken thighs
3 bell peppers
on-the-vine tomatoes – 400 g
pitted olives – 3 oz /100 g
garlic – 8 cloves
vegetable oil – 2 tbsp
salt – 1 tsp
ground black pepper – 1 tsp
dried garlic – 2 tsp
sweet paprika – 2 tsp
fresh parsley – 2 tsp
½ lemon
You will need:
oven
baking sheet or dish
carving board
Instructions
Brush a baking sheet with the vegetable oil, lay out the halved potatoes and thickly sliced smoked sausage. Place into the oven preheated to 350°F /180°C and bake for 15 minutes.
Take the baking sheet out of the oven and add the red onion cut into wedges, bell pepper cut into strips, sliced garlic, olives and all the spices, toss well, push in the chicken thighs, lay the tomatoes atop and put the baking sheet back into the oven. Roast until the chicken readiness for about another 30 minutes at 350°F /180°C. It is important to not dry the chicken.
Take out of the oven, drizzle with the lemon juice, sprinkle with fresh parsley and serve your chorizo roast with chicken to the table.
Did You Make This Recipe?
---
Enjoy