Thai Beef & Basil Stir Fry are on the menu in Book recipe, and we are going to teach you how to make this delicious recipe from scratch!
This dish may look fancy and intimidating, but I promise it is worth every minute of effort! Dishes like this are what makes cooking so enjoyable to me. Although it requires a bit more effort than your traditional 'slap it together' recipe, the end result is so rewarding. The combination of flavors is amazing and the vibrant colors are a feast to the eye! Make this for your loved one for a romantic evening in or just because it's delicious.
Follow along with the ???? recipes below????????????????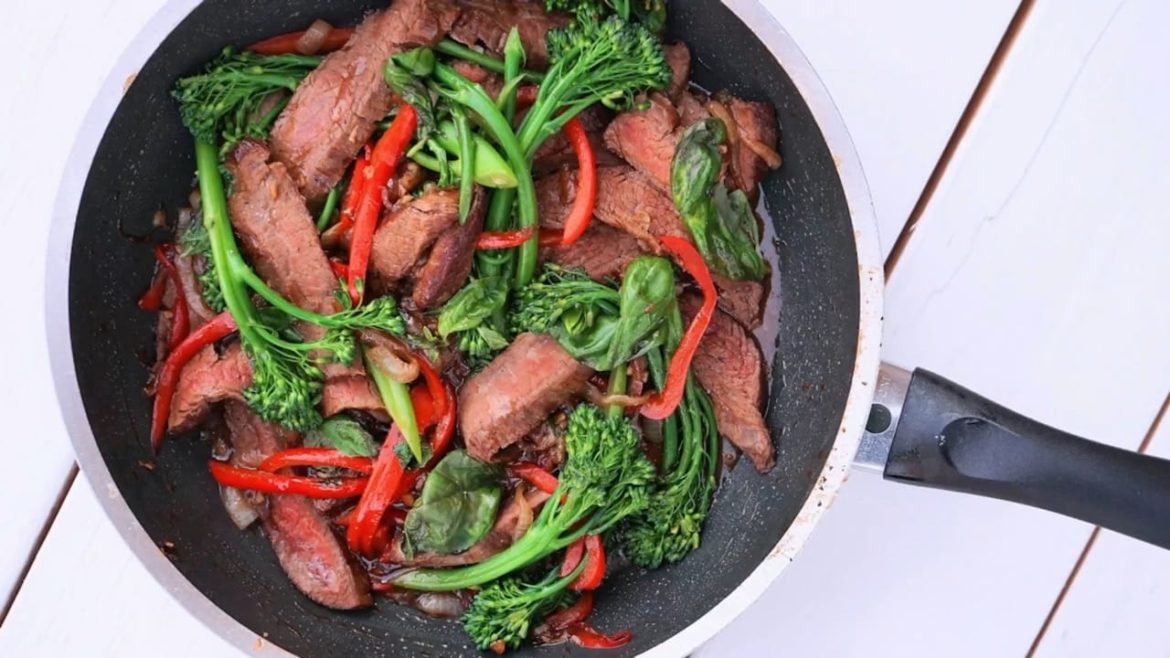 Ingredients
1 Bunch Broccolini (About 2 Cups)
1 Tablespoon Coconut Oil
1.5 Pounds Flank Steak
1 Onion, Sliced Thin
1 Red Bell Pepper, Sliced Thin
4 Cloves Garlic, Minced
2 Teaspoons Cornstarch
¼ Cup Coconut Aminos
1 Tablespoon Fish Sauce (I know I accidently said fish oil in the video.)
¼ Teaspoon Red Pepper Flakes
1 Cup Fresh Basil, Packed
Instructions
Prepare broccolini by removing any leaves and cutting off thick stems. In batches, place broccolini into a pot of boiling water, cook for 3 minutes, then transfer to a bowl of ice water. Allow the broccolini to set for a few seconds, then transfer to a plate with paper towel to drain.
Prepare the steak by trimming any excess fat. Lightly salt and pepper both sides. If your steak is not an even thickness, pound out any uneven areas to ensure even cooking.
Heat a large skillet over high heat, add coconut oil. Once pan is hot, add steak and cook for 4-7 minutes on each side depending on your preference of doneness. This steak is best enjoyed medium-rare. Flank steak becomes tough at well done. (Keep in mind how hot your pan is compared to mine in the video. Gas stoves tend to run hotter than electric, and cast iron maintains heat more than the pan I used. So keep those factors in mind when cooking the steak.)
Once steak is cooked, transfer to a plate, set aside and allow to rest about 7 minutes.
Using the same pan, lower the heat to medium low. Add a drizzle of olive oil and thinly sliced onions. Cook until partially caramelized. About 15 minutes.
While onions cook, slice steak into strips, slicing against the grain of the meat. The slices can be as thin or thick as you like.
Once onions are brown, add thinly sliced red pepper, and garlic.
Cook about 3 minutes or until pepper is slightly tender.
Add sliced steak along with any juices that accumulated on the plate.
In a small cup, whisk together cornstarch, coconut aminos, fish sauce, and red pepper flakes. Pour into the skillet and stir well. Cook for about 4 minutes or until the sauce has thickened.
Add broccolini, fresh basil, stir well.
Did You Make This Recipe?
---
Enjoy