Kale and Citrus Chicken Salad are on the menu in Book recipe, and we are going to teach you how to make this delicious recipe from scratch!
Watch as chef Robert Irvine transforms plain old kale and chicken into a vibrant and festive winter citrus salad to keep the cold weather blues (and the holiday bulge) at bay.
It seems kale is everywhere, but many people still shy away from this leafy, vitamin-packed superfood. Yet, as celebrity chef Robert Irvine explains, this may have more to do with kale's tough texture than with its taste and health benefits.
"Unlike lettuce, when you try to eat whole kale leaves, you're chewing forever," explains Irvine. "To avoid this, cut the kale down into very small pieces before making your salad."
Fresh, seasonal orange segments are a healthier alternative to their sugar-laden canned cousins, and the fresh herbs and bright red tomatoes are a great way of adding a beautiful burst of color and flavor without adding calories.
Top off your kale salad with simple grilled chicken thighs and a homemade honey mustard dressing, and you have a light and healthy alternative to save you from heavy winter meals.
Follow along with the ???? recipes below????????????????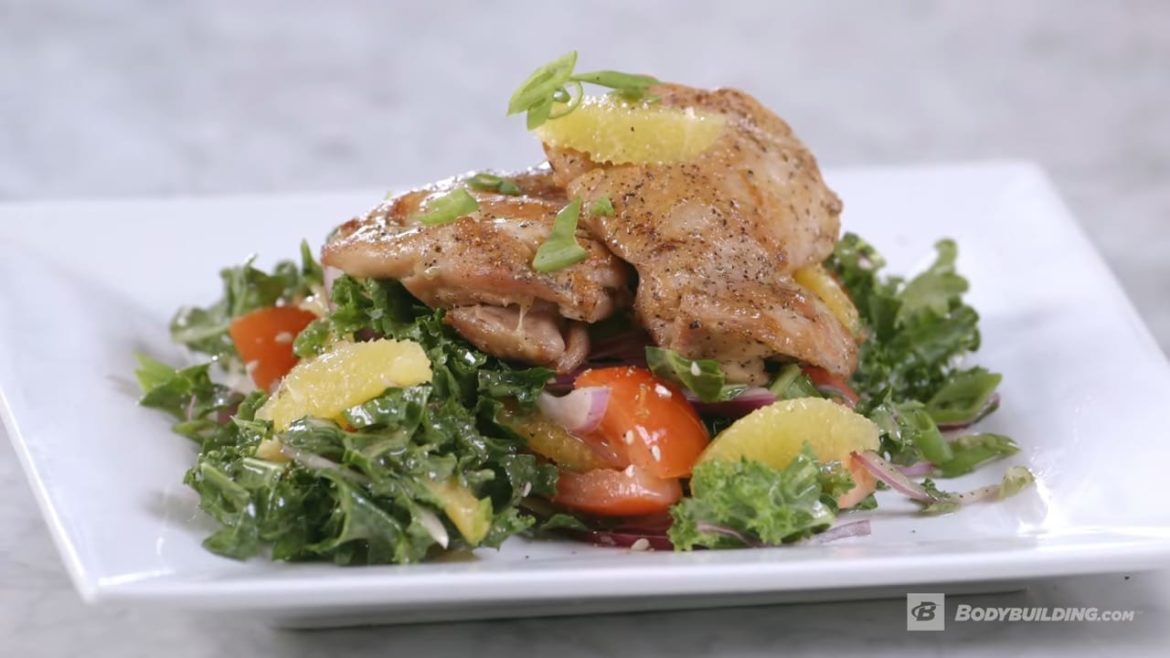 Ingredients
2 piece chicken thigh
1 fruit (2-7/8" dia) orange
3 cup kale, diced
2 large whole (3" dia) tomatoes, sliced
½ whole red onion, sliced
½ cup fresh basil leaves, chopped
½ cup flat-leaf parsley
½ cup scallions, sliced
2 tbsp sesame seeds
4 tbsp Honey Mustard Dressing
Instructions
Season chicken thighs with salt and pepper and place them on the grill on medium-high heat. Grill on both sides until cooked all the way through. Set aside.
To supreme the orange, chop the top and the bottom off so it sits flat on your cutting board.
Using a small knife, slice the peel off the orange in sections all the way around, carefully removing all of the bitter white pith.
Once you have the orange completely peeled, take the knife down the side of the vein, twist at the bottom, and pop out each orange segment.
Roll up the basil, mint, and parsley and slice into thin slices--also known as a chiffonade. Run your knife through everything a few times once more in the other direction to chop up the herbs.
Place the kale in the bowl with the dressing. Sprinkle with chopped herbs and mix to combine. Add chopped tomatoes, sliced red onions, diced scallion, and orange supremes. Sprinkle with salt, pepper, and sesame seeds.
Plate the salad and top with grilled chicken thighs. Finish with additional orange segments and scallions.
Did You Make This Recipe?
---
Enjoy