If you want a delicious weeknight meal for the family, then this amazing beef stir fry loaded with vegetables and a homemade sauce comes together in under 30 minutes.
Stir Fry is a great last-minute option during the week since a lot of ingredients can already be found in your cupboards. In addition, beef stir fry is always a family favorite and comes together in no time and it's a great way to get your children to eat vegetables.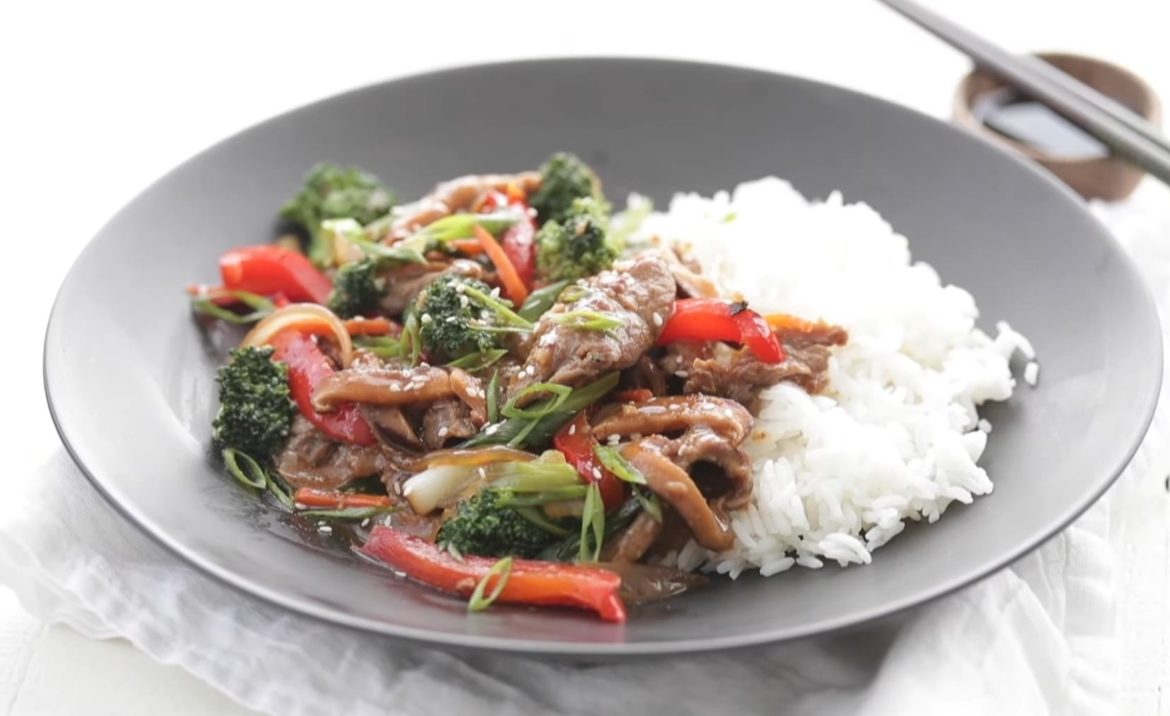 Ingredients
For the Beef:
1 pound thinly sliced flank steak
3 finely minced cloves of garlic
1 teaspoon peeled finely grated fresh ginger
3 tablespoons soy sauce
1 large egg
3 tablespoons corn starch
sea salt and fresh cracked pepper to taste
3 tablespoons canola oil
For the Vegetables and Sauce:
2 seeded and thickly sliced red bell peppers
1 cup julienne shiitake mushrooms
½ peeled thinly sliced yellow onion
4 green onions cut into 2" long pieces
2 heads of trimmed broccoli
½ cup matchstick carrots
3 tablespoons canola oil
3 tablespoons oyster sauce
2 tablespoons dry sherry wine
1 tablespoon sugar
3 tablespoons soy sauce
4 cups cooked jasmine rice
Instructions
Add the sliced beef, salt and pepper, garlic, ginger, soy sauce, egg, and corn starch to a bowl and mix until completely combined.
Next, add 3 tablespoons of canola oil to a large wok over high heat.
Once it begins to roll smoke add in the beef and immediately move it up the sides of the pan so that it doesn't clump, and all of the pieces can get cooked.
Stir-fry for 2 to 3 minutes and set aside.
Add 3 tablespoons of canola oil to wok and return it to the burner over high heat until it rolls smoke again.
Add in the bell peppers, onions, mushrooms and green onions and stir fry for 1 to 2 minutes or until a light sear has been created.
Add the broccoli and carrots to a separate large pot of boiling water and cook for 1 to 2 minutes.
Pour the oyster sauce, sherry, sugar and soy sauce to the wok with stir fried vegetables and cook for 1 to 2 minutes stirring constantly.
Add the boiled broccoli and carrots to the wok along with the cooked beef and mix until combined.
Serve the beef stir fry with jasmine rice and add on optional garnishes of sliced green onions and sesame seeds.
Notes
I can't stress enough to use ingredients you like as the stir fry sauce will complement the just about anything.
To keep this recipe completely vegetarian, do not use the oyster sauce.
No matter what cut of beef you select; It should be thinly sliced against the grain for maximum tenderness.
Mirin or rice wine would be preferred over sherry wine if you can find it.
I recommend using an oil with a high smoking point like canola or vegetable oil.
Did You Make This Recipe?