Fresh Spring Mix Salad is on the menu in Book recipe, and we are going to teach you how to make this delicious recipe from scratch!
IT'S ABOUT TIME MICHIGAN! It seemed like we were stuck in a wintry mess FOREVERRRR. Finally, the weather is sunny and warm and you better believe we are going to soak up every ounce of sun we can get! That means, less time spent in the kitchen. This spring salad is the perfect meal to nourish your body and wake up your summer taste buds. And it doesn't require time standing over a hot stove. Spring greens, fresh fruit, crisp cucumber, and a delicious middle eastern style dressing! Add some grilled chicken and pull up a chair on the patio, and Bon appetite!
Follow along with the ???? recipes below????????????????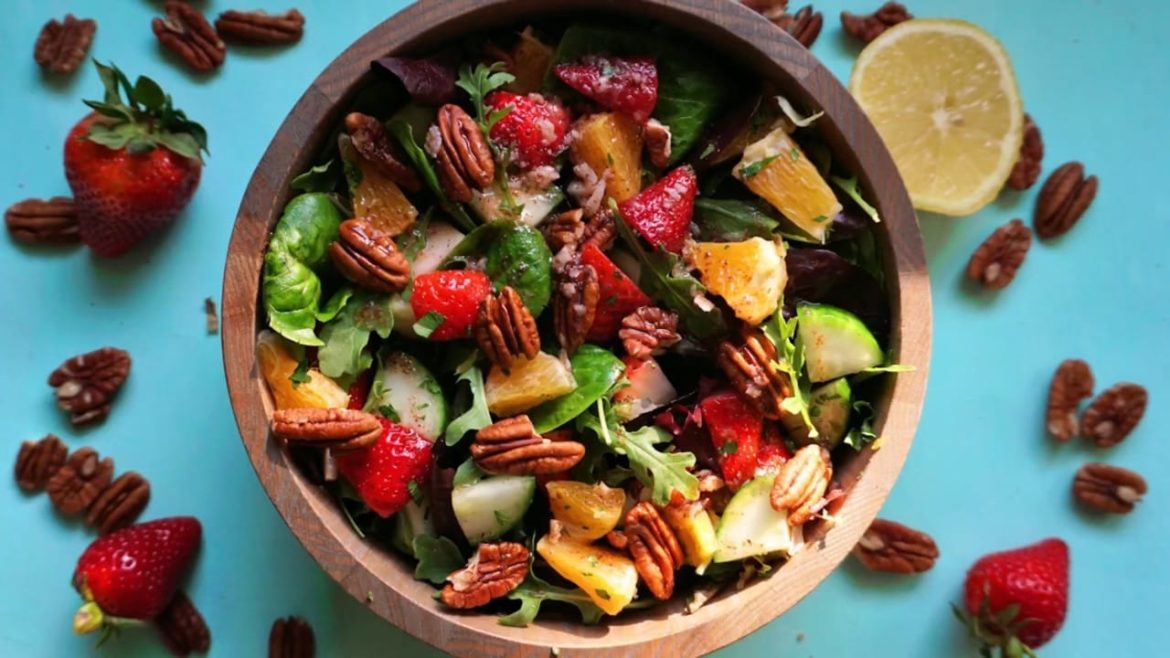 Ingredients
5 Ounce Package Organic Spring Mixed Greens
½ English Cucumber, Diced
2 Cups Strawberries, Cored, and Diced
½ - Whole Orange, Peeled and Diced
2 Tablespoons Fresh Parsley, Chopped
1 Tablespoon Fresh Mint, Chopped
Dressing:
2 Cloves Garlic, Very Finely Minced
½ Teaspoon Salt
1/3 Cup Olive Oil, Good Quality
2 Teaspoons Sumac
¼ Cup Lemon Juice
¼ Teaspoon Black Pepper
2 Boneless Skinless Chicken Breasts

Season to taste with: Salt, Pepper, Sumac, Garlic Powder, Dried Dill, Cayenne Pepper.
Optional:
Instructions
Dressing:
Finely mince or grind garlic (mortar and pestle) to a paste. Add salt, olive oil, sumac, fresh lemon juice, and pepper. Whisk well until combined.
Season chicken breasts to taste with salt, pepper, sumac, garlic powder, dried dill, and cayenne pepper. Cook on a hot grill until the internal temperature reaches 165°F. Slice Into strips.
Add chopped fruit and vegetables to a large bowl and toss. Add sliced chicken, feta cheese, and walnuts. Drizzle over a small amount of dressing at a time and toss to coat. Start with a small amount so that you don't add too much! Use as much or as little as you'd like.
Did You Make This Recipe?
---
Bon appetite