Honey Garlic Salmon & Veggies are on the menu in Book recipe, and we are going to teach you how to make this delicious recipe from scratch!
You know how much I love my honey garlic recipes! And I honestly can't believe this is my first fish recipe on this channel. However, I have good reason! I loveee salmon so much it's insane. BUT Mike HATES ALL seafood. He hates anything that comes from the water, period! So needless to say I literally ate this whole sheet pan recipe myself with no regrets. This salmon recipe is extremely easy yet it tastes incredible! The trick with sheet pan recipes is to learn your oven. I know how long salmon usually takes in my oven and I know how long cubed potatoes take in my oven. So I cut the portions accordingly so everything comes out evenly cooked and moist! I know you all will love this recipe!
Follow along with the ???? recipes below????????????????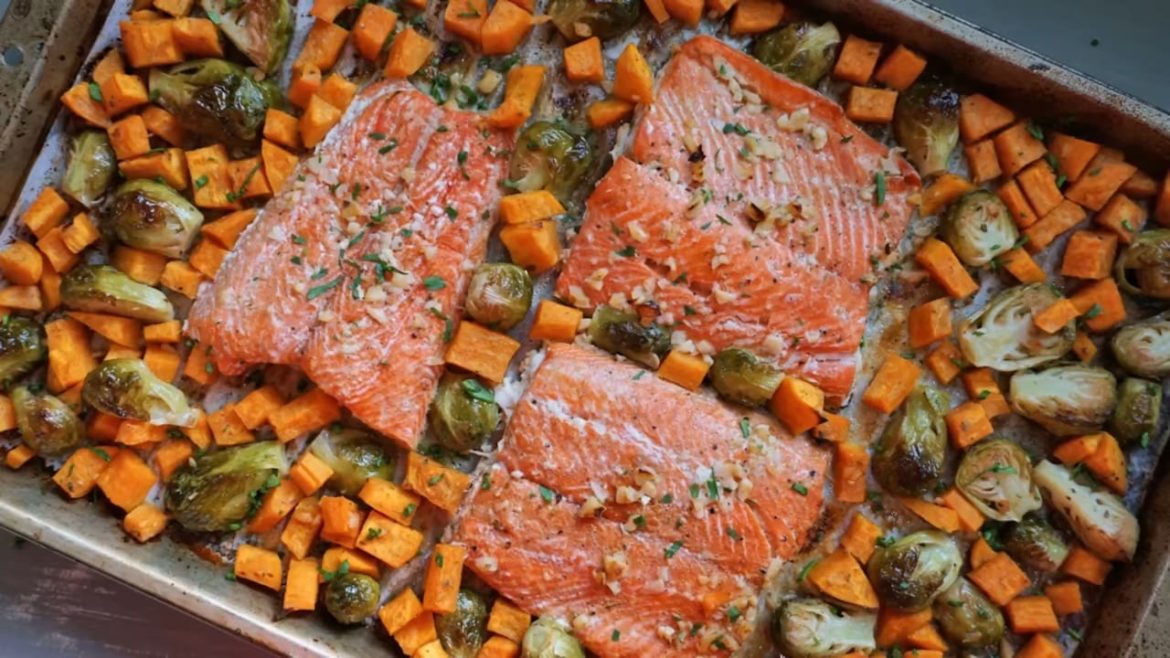 Ingredients
1 ½ lbs. Wild Salmon Fillet
4 Cups Sweet Potato, Diced into Small Cubes
4 cups Brussels Sprouts, Halved
2 Tablespoons Olive Oil
2 Teaspoons Ground Cumin
1 Teaspoon Oregano
½ Teaspoon Cayenne Pepper
Salt and Pepper to Taste
SAUCE:
4 Tablespoons Fresh Lemon Juice
6 Tablespoons Honey
2 Teaspoons Olive Oil
3 Large Garlic Cloves, Finely Minced
1 Teaspoon Salt
Black Pepper to Taste
Instructions
Preheat oven to 425°F.
In a small bowl, whisk to combine lemon juice, honey, minced garlic, olive oil, salt, and pepper to taste.
Place salmon fillet in the middle of the baking sheet and season with salt and pepper to taste. Pour ½ of the honey garlic sauce on top. Spread evenly with a pastry brush.
In a large bowl, add the sweet potato and brussels sprouts. Make sure the potatoes are cut small so that they cook completely by the time the fish is done! Drizzle with olive oil and season with salt and pepper. Add ½ of the honey garlic sauce mixture. Mix well to coat and place in an even layer around the salmon.
Place into a 425°F oven for about 20-30 minutes. This depends on how large your fish is. Yo
Did You Make This Recipe?
---