One-Pan Creamy Chicken and Gnocchi is on the menu in Book recipe, and we are going to teach you how to make this delicious recipe from scratch!
When in doubt, one-pan meal it out. That's not a traditional saying, but it totally should be! I know most people hate spending an hour in the kitchen. With this one-pan creamy chicken and spinach gnocchi, you don't even have to spend 30 minutes! This dish is so simple yet the flavors are out of this world good! The onions, garlic, and mushroom add an intense flavor to the gnocchi that you cannot turn down. I know you will love this recipe!
Follow along with the ???? recipes below????????????????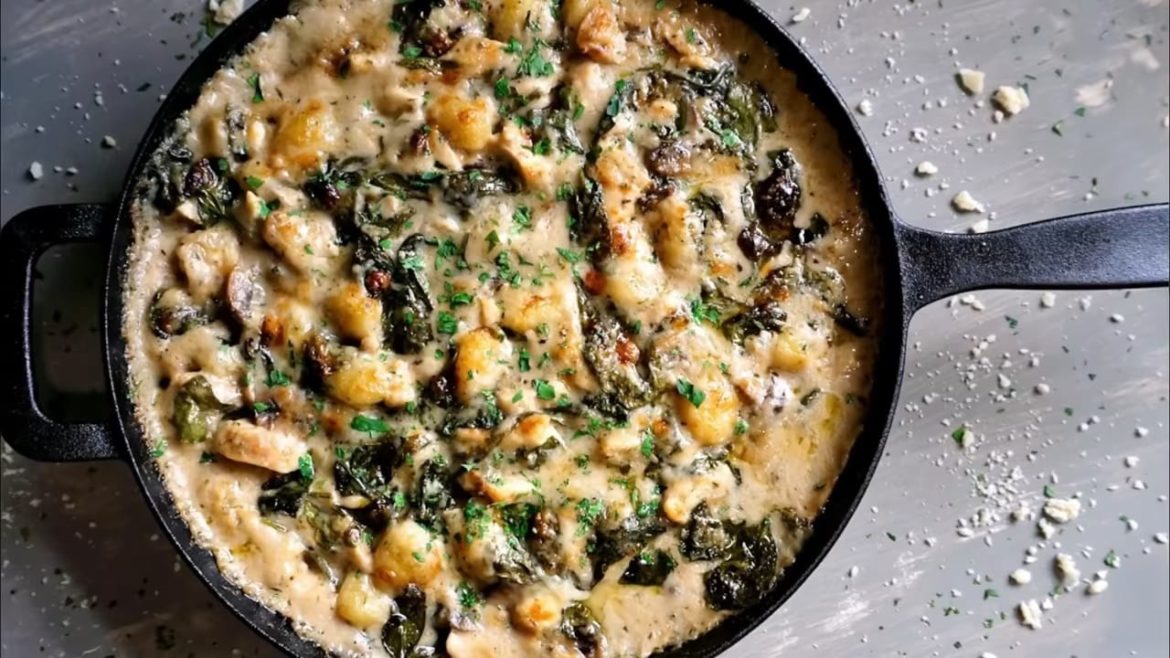 Ingredients
2 Tablespoons Olive Oil
2 Cups Mushrooms, Sliced
1 Medium Onion, Diced
4 Cloves Garlic, Minced
4 Tablespoons Butter
1/3 Cup All-Purpose Flour
1 ½ Cups Chicken Stock
2 Cups Milk
1 Teaspoon Oregano
1 Teaspoon Dried Dill
1 Teaspoon Dried Thyme
¼ Teaspoon Cayenne Pepper
Salt and Pepper
2 Cups Cooked Chicken, Shredded or Diced
1 16 Ounce Package Potato Gnocchi
2 Cups Spinach
¾ Cup Parmesan Cheese, Shredded
Instructions
Preheat oven to 425°F.
In a cast-iron skillet, warm olive oil over medium-high heat. Add onion and cook until almost translucent. Add mushrooms and cook until they have a slight golden color. Add garlic and cook an additional minute. Remove from pan and set aside.
In the same pan, melt butter. Once fully melted, whisk in flour until smooth. Cook for two minutes stirring constantly.
Whisk in milk and chicken stock until no clumps remain. Bring to a slow simmer whisking constantly. The mixture will thicken as it heats up. Season sauce with oregano, dill, thyme, cayenne pepper, salt, and pepper.
Once thick, add cooked chicken, uncooked gnocchi, mushroom mixture, and spinach. Fold and stir until combined and spinach starts to wilt. Turn off heat.
Top with shredded parmesan. Cook in a preheated 425°F oven for about 25-30 minutes or until the top is somewhat golden.
Did You Make This Recipe?
---
Enjoy