Fried Prawn Roll is on the menu in Book recipe, and we are going to teach you how to make this delicious recipe from scratch!
Follow along with the ???? recipes below????????????????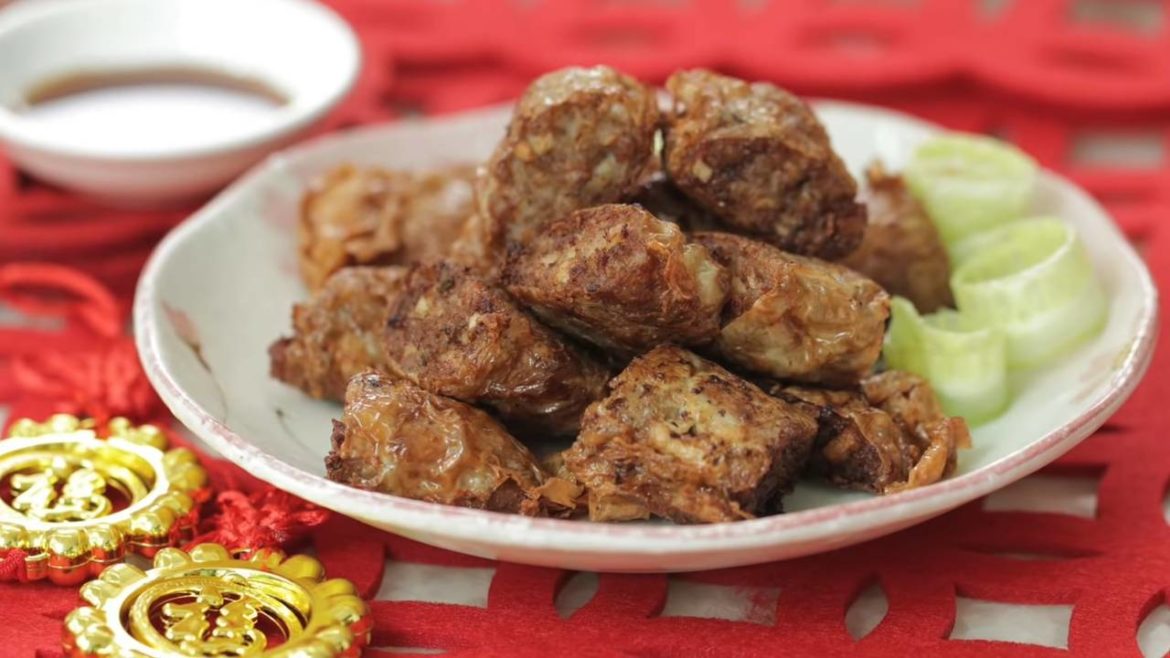 Ingredients
400g fresh prawn (de-shelled weight)
100g minced pork (with some fats)
125g water chestnut (diced)
Seasoning
1 egg (55g)
1 to 2 chinese parsley stem (finely chopped)
1 tsp sesame oil
1.5 tsp white pepper
1.5 tsp five spice powder
2 tsp sugar
3 tsp chicken powder
1 tbsp oyster sauce
1 tsp soya sauce
2 cloves garlic (finely chopped)
4 shallots (finely chopped)
For wrapping
1 big sheet of dried bean curd skin
Sauce for dipping
Instructions
Cut the bean curd sheet to your desired size, set it aside.
Use a knife to smack the prawn. Mix it with minced meat and water chestnut.
Add in all seasoning. Stir the ingredients in one direction till mixed well. Set aside.
Use a damp cloth to gently rub on the surface of the bean curd skin to remove the salt, then scope up a spoonful of mixed prawn paste onto the bean curd sheet, roll it up tightly, seal the edge, and both ends. Repeat the same till all paste is finished.
Prepare a steaming pot with boiling water. Steam the roll for 5 minutes. Drained and let it cool completely before slicing. When it's warm, the bean curd sheet will stick to the bottom of the tray and tear easily. Slice the prawn roll into chunks.
Prepare a wok with oil, oil must be enough to cover the prawn roll when fried. Fry till golden brown. Drained on paper towels.
Serve with sweet sauce and chili sauce.
Notes
The steamed prawn rolls can be stored in the freezer. Thaw before frying them. I made about 6 rolls for this recipe.

Did You Make This Recipe?
---
Enjoy