Salted Caramel Donuts are on the menu in Book recipe, and we are going to teach you how to make this delicious recipe from scratch!
Follow along with the ???? recipes below????????????????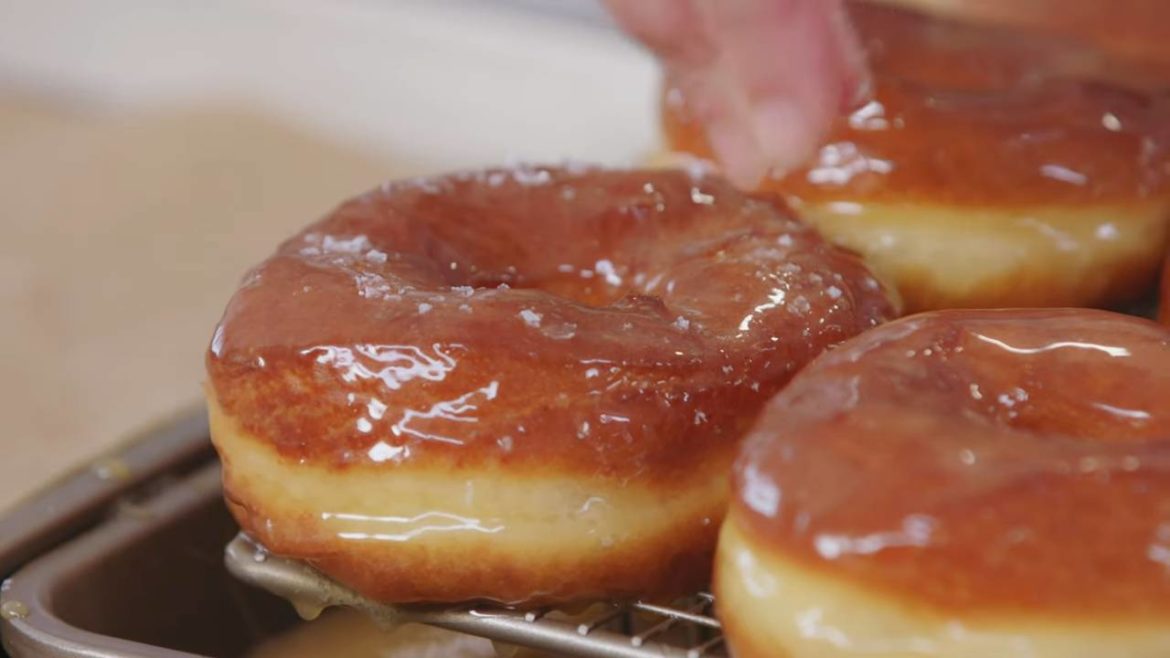 Ingredients
Donut Dough
4 cups (600 g) bread flour (see note)
⅓ cup (70 g) granulated sugar
2¼ tsp (1 pkg) instant dry yeast
½ tsp fine salt
1½ cups (375 mL) 1% or 2% milk, room temperature
1 large egg, room temperature
2 large egg yolks, room temperature
6 Tbsp (90 g) unsalted butter, room temperature
Vegetable oil, for frying
Salted Caramel Glaze
2 Tbsp water
½ cup (100 g) granulated sugar
2 tsp white vinegar or lemon juice
¼ cup (60 mL) whipping cream
½ cup (115 g) unsalted butter, cut into pieces
½ tsp flaked sea salt, plus extra for the tops of the doughnuts
1½ cups (195 g) icing sugar, sifted
6 Tbsp (90 mL) 1% or 2% milk, room temperature
1½ tsp vanilla extract
Instructions
For the doughnut dough, place all of the ingredients (other than the oil for frying) in the bowl of a stand mixer fitted with the hook attachment. Mix at low speed until blended, then increase the speed one level and knead until the dough is smooth and elastic, about 4 minutes. (Alternatively, you can blend the ingredients by hand, then turn the dough out onto a floured surface to knead until smooth, about 6 minutes.)
Place the dough into a large ungreased bowl, cover with plastic wrap and leave to rise for an hour or until doubled.
To cut the doughnuts, turn the risen dough out onto a floured surface and roll to ½ inch (1.2 cm) thick. Using a 3-inch (7.5 cm) round cutter, cut rounds from the dough (1). Use a 1-inch (2.5 cm) round cutter or a large pastry tip to cut a hole out of the centre of each one. Re-roll any scraps (the dough from the holes can be reworked into the dough or fried as doughnut holes). Cover the doughnuts with a tea towel and let rise for 30 minutes.
While the doughnuts are rising, prepare the glaze. Bring the water, sugar and vinegar or lemon juice up to a full boil in a medium saucepan over high heat, without stirring. Continue to boil, occasionally brush the sides of the pan near the sugar with water (this prevents the sugar from crystallizing). Once the sugar is a deep amber colour, remove the pan from the heat and whisk in the cream (watch out for steam). Whisk in the butter a few pieces at a time, until fully dissolved. Stir in the salt. In a separate bowl, whisk the icing sugar, milk and vanilla together until smooth, then pour in the caramel sauce until combined. Set aside while frying the doughnuts.
Preheat the vegetable oil to 350°F (180°C) in a tabletop fryer or in a deep pot set over medium-high heat (fill the pot with 2 inches/5 cm of oil). Line two baking trays with paper towel and set them under two cooling racks.
Using a slotted spoon, carefully lower a few doughnuts into the hot oil, leaving enough space so that they do not touch, and cook for 2 to 2½ minutes. Turn the doughnuts over and cook for another 2 to 2½ minutes. Lift the doughnuts onto one of the cooling racks and let cool for 5 minutes. Continue to cook the next batch of doughnuts.
After each batch of doughnuts has cooled just a little (they can still be a touch warm), dip them into the glaze so that they are fully covered. Shake off any excess glaze and place them on the second cooling rack to let the glaze set for about 15 minutes.
The doughnuts are ideally enjoyed within an hour of cooking but can still be appreciated the day they are made.
Notes
This recipe calls for bread flour because its higher protein content helps hold in the air produced by the yeast, resulting in a lighter, fluffier doughnut. If you do not have bread flour, you can use all-purpose flour, but knead the dough an extra 1 to 2 minutes to fully develop an elastic texture.

Did You Make This Recipe?
Salted Caramel Donuts are the perfect tread for a Casual Wedding. Professional Baker Anna Olson is here to show you how to make these amazing donuts!
---
---
Enjoy