POMEGRANATE MOLASSES is on the menu in Book recipe, and we are going to teach you how to make this delicious recipe from scratch!
Today I want to talk about sour and sweet beauty pomegranate and how differently we can use this juicy fruit. Many of you would know I sometimes use pomegranate molasses in my recipes and today we are making our own! Then, I am going to show you three different ways and forms of using pomegranate in salads, first one will be an unorthodox shrimp salad with coriander and pomegranate seeds.
Next, we'll be making a traditional and insanely delicious spoon salad and last but not least we are going to poche pears in pomegranate juice, turn that sweet and sour juice into a sauce and mix with rockets. If you are ready let's start our pomegranate journey!
Follow along with the ???? recipes below????????????????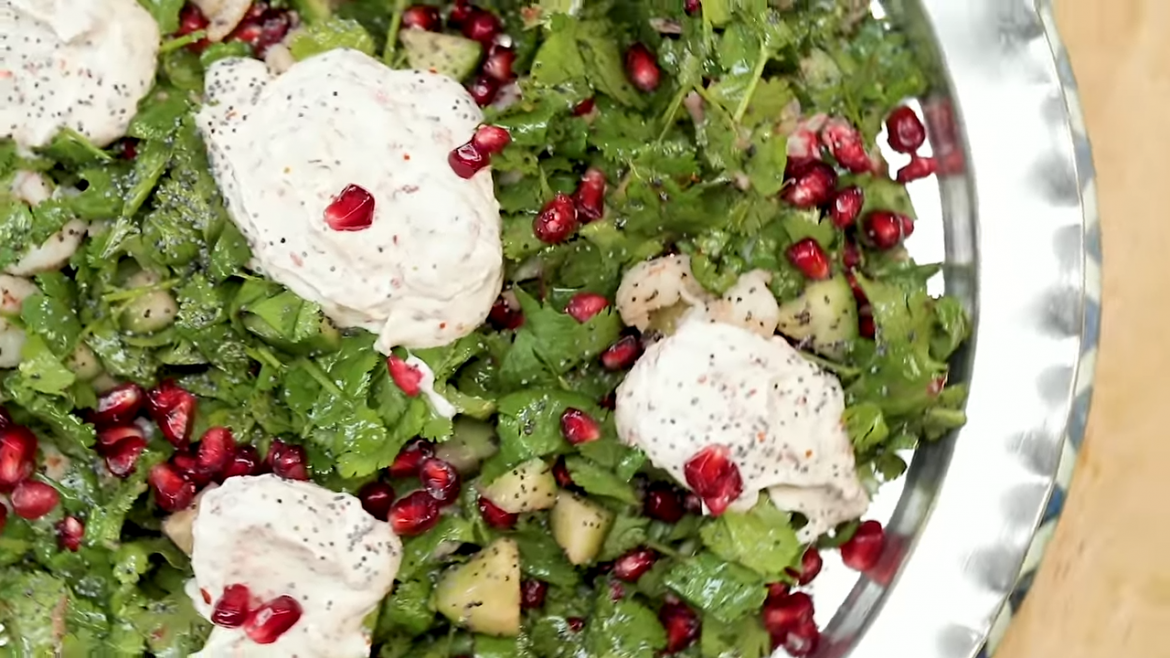 Ingredients
Pomegranate Molasses
5 kg pomegranate, sour ones are better for this recipe
Unorthodox Shrimp Salad with coriander and pomegranate
4 tablespoons olive oil
200 g fresh, raw shrimps, peeled
walnut-sized ginger, finely diced
3 cloves of garlic, finely diced
1,5 bunch of coriander, chopped
1 teaspoon pomegranate sour, optional
1 small cucumber, diced
2 handfuls of pomegranate seeds
1 tablespoon poppy seed
4 tablespoons mayonnaise
1 leveled tablespoon red pepper flakes
Salt & black pepper
Instructions
Pomegranate Molasses
Squeeze the juice of the pomegranate. You can squeeze the juice of the pomegranates with the lever-arm juicers or halve the pomegranates and place a big bowl in your sink. Hold the pomegranate cut side down and hit the skin with a wooden spoon repeatedly. Seeds will drop into the bowl and then you can squeeze them with a press juicer and sieve through a cheesecloth. Crush the pomegranate seeds, which do not release their full juice, through a strainer with a spoon.
Strain the pomegranate juice through cheesecloth. Simmer the 1.5-2.5 liters of juice you have in a large and wide steel pot for about 1,5-2 hours.
Stir with a wooden spoon and check occasionally to remove any foam.
As the pomegranate juice reduces, the inner edges of the pot start to become sticky and dark, clean the edges from time to time with a damp cheesecloth so that the sugar or pectin accumulated here does not burn and spoil the taste of the pomegranate sour.
Turn off the heat when the pomegranate juice starts to thicken. You can check the consistency by dropping a teaspoon of it on a cold plate/surface.
You will get about 350-400 ml of pomegranate sour from 5 kg of pomegranate. Transfer the sour to sterilized bottles to use.
Unorthodox Shrimp Salad with coriander and pomegranate
Heat the 3 tablespoons olive oil on high heat in a large frying pan. Add the shrimp, ginger, and garlic then sauté for 1 to 2 minutes until opaque and cooked. Season with salt and black pepper to your taste.
Combine the coriander, 1 tablespoon olive oil, pomegranate sour, and a pinch of salt. Give it a mix.
Add in the cucumber, pomegranate seeds, poppy seeds, and shrimps.
Give it a nice, last mix then transfer to a dish.
Mix the mayonnaise and red pepper flakes well and drop some lumps on the salad with a spoon.
Garnish with more pomegranate and poppy seed and enjoy!
Did You Make This Recipe?
---
Enjoy
Let us know what you think of today's POMEGRANATE MOLASSES tips, tricks, and hacks!