Beef Noodle Soup on the menu in Book recipe, and we are going to teach you how to make this delicious recipe from scratch!
There's nothing better than a bowl of steaming hot, flavorful beef noodle soup when you're tired and cold, especially after a long day. This is something I really look forward to every time I head home for the holidays and I'm excited to finally be sharing the recipe with you all!
I also realized that we never really wrote down our measurements for this, because "just eyeballing it" has always been the way my mom did it, haha. So I tried my best to write it down below! Here's how to make my family's Taiwanese beef noodle soup, and this should make around 6 – 8 servings.
Follow along with the ???? recipes below????????????????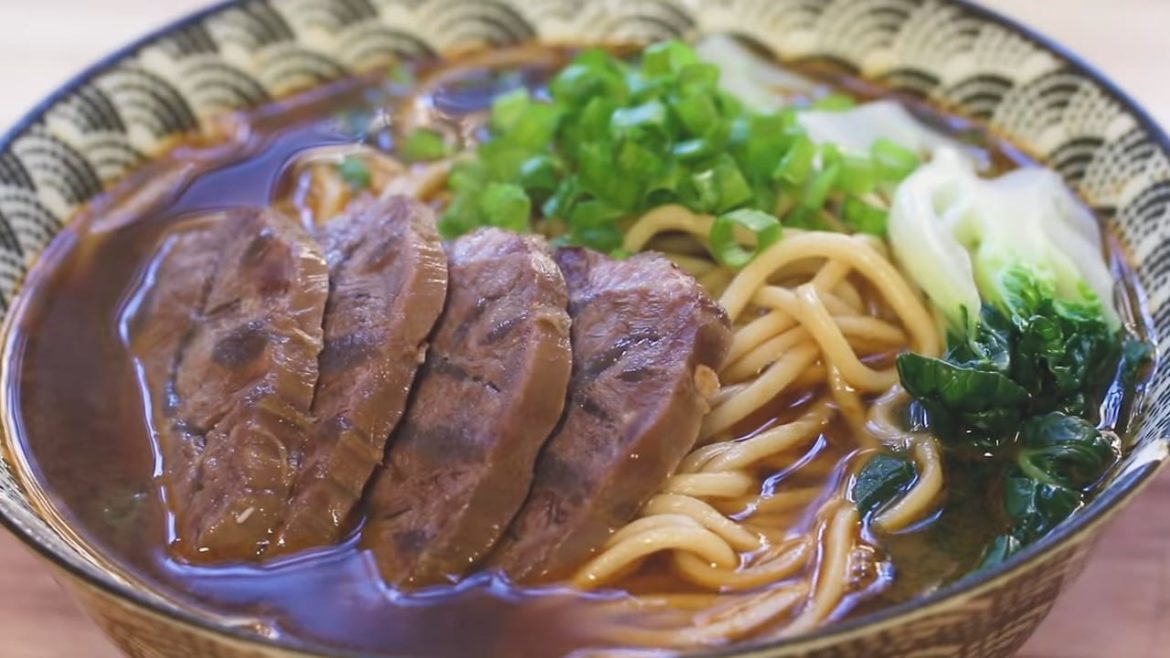 Ingredients
Blanching:
2 beef shank
3 scallions
6 slices of ginger
2 tbsp rice wine (optional)
8 - 10 cups of water
Beef noodle soup:
7 slices of ginger
10 cloves of garlic (crushed)
4 scallions
3 shallots
1 onion
2 - 3 chilis (optional)
2 -3 star anise (optional)
1 tbsp rock sugar (less if adding in more apples)
1/2 cup light soy sauce
6 tbsp dark soy sauce
2.5 tbsp spicy bean paste
4 tbsp rice wine
1 tomato
1-2 apples
1 spice packet
For serving:
Scallions
Dark soy sauce
Bok choy
Noodles
Instructions
Blanching:
In a large pot, add beef shank, scallions, ginger, and rice wine.
Fill with water until ingredients are completely covered and bring to a boil.
Remove scum on the surface, and take the meat out to let cool.
Take out the scallion, ginger, and set aside the remaining broth.
Beef noodle soup:
In a large pan, heat up oil and add ginger, garlic, the white parts of the scallions, shallots, onion, chilis, star anise. Stir gently until the onions become translucent
Add the spicy bean paste, rice wine, light soy sauce, dark soy sauce, and rock sugar. Mix again and add the beef shank.
Add the cooked ingredients, chopped tomatoes, apples, and spice packet to the broth from earlier. Add more water if needed to make sure that the beef is covered. Bring to a boil, and then reduce the heat to low and let it simmer for around 1.5 - 2 hours. Turn off the heat and let the beef sit in the broth for another 30 min before taking it out.
Once the beef is cooled, slice thinly. Make final adjustments to the soup, and strain if desired, bringing to a boil just before serving. Cook noodles and bok choy.
In a bowl, add a splash of dark soy sauce, scallions, and noodles. Toss to coat and pour in broth. Add bok choy and beef, and garnish with scallions. Better yet, serve it up with pickled vegetables and chili oil!
Did You Make This Recipe?
---
Enjoy