I'm pretty sure I have 1 billion one-pan chicken and veggie recipes. But I cannot help myself! They are so easy and so delicious! I am addicted! So of course I absolutely love this one Pan Chicken and Veggies Recipe Tuscan chicken and vegetable recipe because it's easy, but it looks so beautiful. The chicken cooks perfectly moist, the tomatoes are roasted, the garlic gets sweet, the green beans still have the slightest crunch, and the onions are deliciously caramelized. If you're not drooling right now something is wrong with you LOL. Easy prep, easy clean-up, and ridiculously yummy. You HAVE to make this! Let me know how it goes when you do!
Follow along with the ???? recipes below????????????????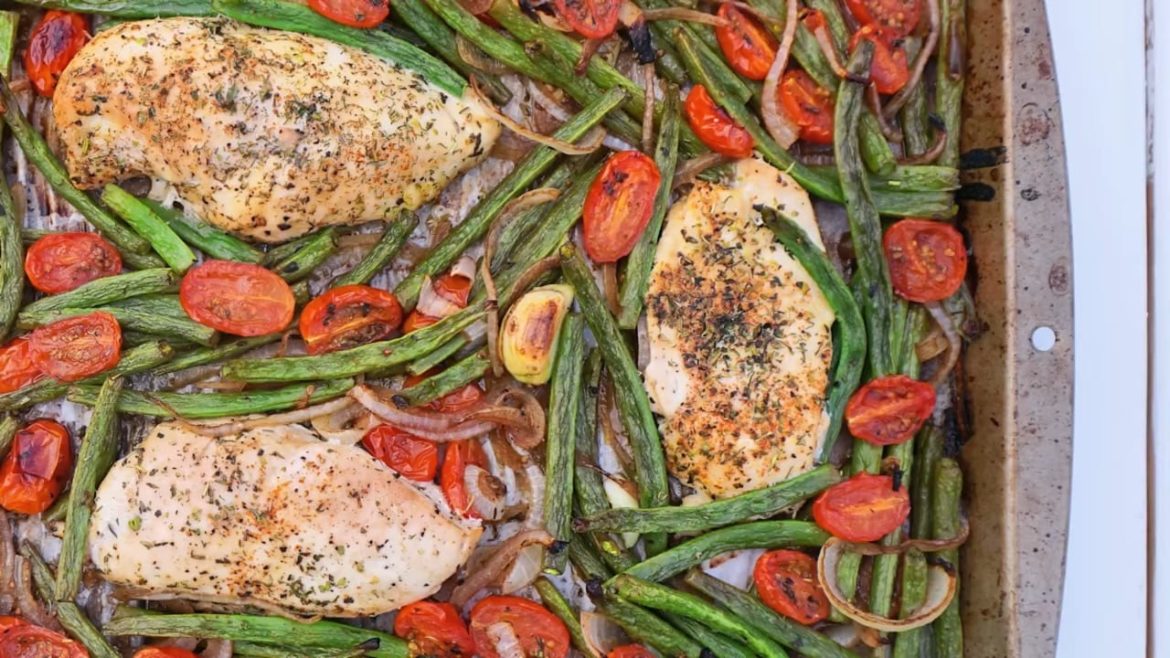 Ingredients
4 Cups Fresh Green Beans, Washed and Snipped
10 Ounces Cherry Tomatoes, Halved
1 Medium Onion, Sliced Thin
6 Cloves Garlic, Peeled
2 Teaspoons Italian Seasoning
¼ Teaspoon Cayenne Pepper
Salt and Pepper to Taste
Olive Oil to Coat
2 Tablespoons Good Quality Balsamic Vinegar
4 Boneless Skinless Chicken Breasts
2 Teaspoons Dried Thyme
¼ Teaspoon Cayenne
1 Teaspoon Garlic Powder
Salt and Pepper to Taste
Instructions
Preheat oven to 425°F.
In a large bowl combine halved tomatoes, green beans, onion, and garlic. Drizzle to coat with olive oil. Add balsamic vinegar, Italian seasoning, cayenne, salt, and pepper. Toss to coat.
Pour vegetables onto a large baking sheet lined with parchment paper. Set aside.
Season chicken breasts with dried thyme, garlic powder, cayenne, salt, and pepper. Make sure the chicken isn't too thick. They should not be any thicker than 1 inch. This ensures even cooking of the vegetables and the chicken.
Place chicken onto the baking sheet with the vegetables.
Bake in a 425°F oven for about 20-30 minutes. Start checking on the chicken at the 20-minute mark. Chicken is done when it reaches an internal temperature of 165°F.
Did You Make This Recipe?
---
Enjoy
MACROS
MACROS PER SERVING:
13.9g FAT
18.6g CARBS
23.7g PROTEIN
280 CALORIES
TOTAL MACROS:
55.6 FAT
74.5 CARBS
94.8 PROTEIN
1120 CALORIES