One-Pot Hearty PORK STEW is on the menu in Book recipe, and we are going to teach you how to make this delicious recipe from scratch!
This hearty pork stew recipe is filled with meat and vegetables. In the traditional recipe of pork and potato stew with carrot, there are all necessary spices that will add to this meal a special aroma, and about in an hour, a mouthwatering stew will be ready for serving. That is a perfect dish for holidays and weekdays.
Follow along with the ???? recipes below????????????????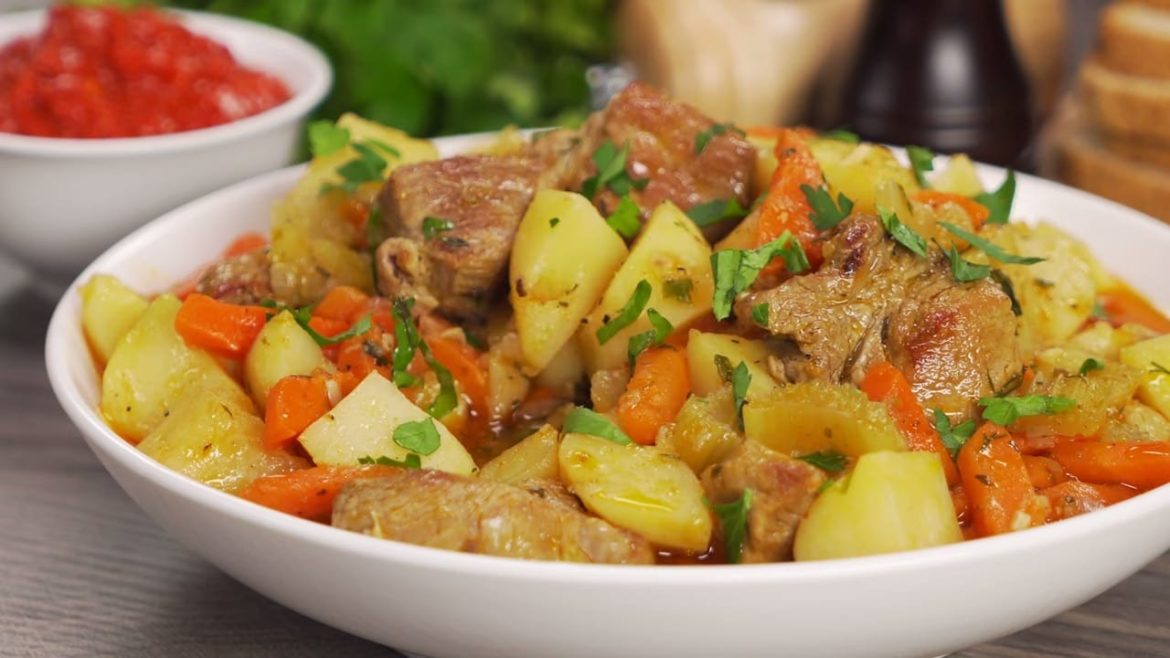 Ingredients
pork tenderloin or neck – 2 lb /800 g
potato – 2 lb /1 kg
carrot – 10 oz /300 g
bulb onion – 7 oz /200 g
celery stalks – 3 oz /100 g
garlic – 3 cloves
vegetable oil – 2 tbsp
smoked paprika – 2 tsp
dried marjoram – 1 tsp
dried thyme – ½ tsp
ground black pepper – to taste
salt – to taste
2 bay leaves
water – 3 cup /800 ml
fresh greens: parsley, dill, cilantro – to taste
You will need:
carving board
deep pan or saucepan
Instructions
Dice the potato cut the carrot into bars, and chop the bulb onion, celery, garlic, and greens. Cut the pork into medium pieces.
Heat a saucepan with the vegetable oil over medium heat, add the meat and fry on all the sides until golden brown for 12-15 minutes.
Add the bulb onion and fry for another 3 minutes over medium heat until the onion is golden brown.
Add the carrot and celery, stir and keep frying for 3 minutes over medium heat stirring occasionally.
Add the chopped garlic, ground pepper, paprika, marjoram, thyme, and salt to taste, stir and fry for a minute over medium heat.
Into the saucepan add the potato and water, stir and bring to a boil.
Reduce the heat to low, cover the saucepan with a lid and simmer for 20 minutes.
In 20 minutes stir, add the bay leaves, and cook for another 20 minutes.
Add the chopped greens, stir well, switch the heat off and cover with the lid for a couple of minutes.
Serve your pork and potato stew hot.
Did You Make This Recipe?
---
Enjoy