Beans & Rice are on the menu in Book recipe, and we are going to teach you how to make this delicious recipe from scratch!
Today I'd like to show you a Turkish cooking technique, which we call a pot meal. It is the best way to make a pot of food large enough to feed the whole family????. A small amount of meat becomes more and more with the help of legumes and vegetables.
Everything simmers together with herbs and spices and becomes a healthy, incredibly fulfilling and tasty meal! Of course, if there is a pot meal on the table, then it means we have to talk about Pilav as well! ????
Follow along with the ???? recipes below????????????????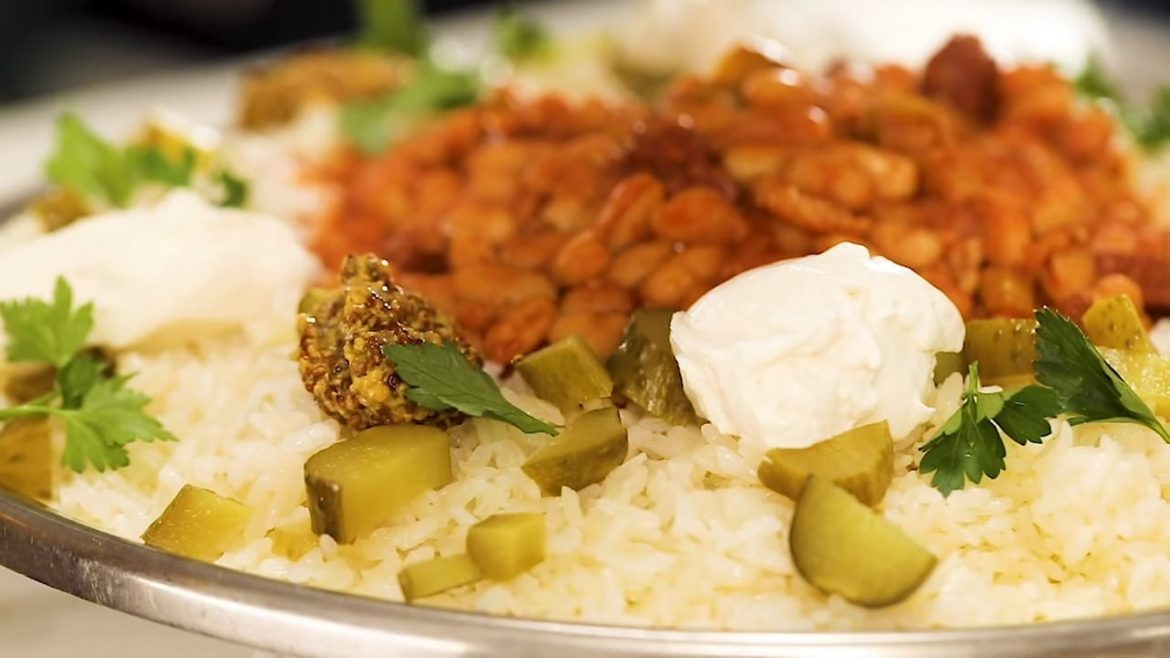 Ingredients
Perfect beans & Pilav (Turkish rice)
100 gr sucuk, diced (alternatively, you can use any kind of cured meat or minced meat)
1,5 medium onions, quartered (keep the root end intact)
3-4 green peppers, sliced
1 heaped tablespoon of butter
1 tablespoon hot pepper paste
1 tablespoon tomato paste (or a can of diced tomatoes)
800 gr boiled white beans (any kind of beans such as red beans or borlotti is also great)
3 cups of rice, soaked in warm water for 15 minutes and drained.
3 tablespoons olive oil
2 tablespoons butter
4,5 cups of boiling water
1 heaped teaspoon of salt
To garnish,
Pickled cucumbers, diced
Pickle juice
Labneh or drained yogurt
Mustard
Instructions
The basic steps of making a Turkish pot meal:
First, start with a big pot on medium heat and add the oil or butter.
Then add the meat and fry until it is browned. It can be ground or diced beef, lamb, chicken, or cured meat like sucuk or pastrami.
Add in the onion. Onion adds flavor and its juice helps to soften the meat and scrape up all the flavors that are stuck to the bottom of the pot.
After that, add the tomato paste, which is vital for a Turkish pot dish. Tomato paste is a spoonful of umami so it scales up the taste incredibly! Crush the paste with the tip of your spoon to spread and fry it evenly.
If you are using spices like cumin, oregano, mint, or hot pepper, add now.
Then it's time for legumes and/ or vegetables. This way, the dish will gain another dimension and texture and will be plentiful enough to feed a big family.
After all of these steps, add water (or stock) and simmer. This is where the magic happens and all the ingredients join to become something better - a balanced, healthy, and fulfilling pot meal!
Almost every pot meal is served with a pilav (It can be rice or bulgur pilav) but even if there is no pilav, there's always a piece of bread for you to dunk in!
Parsley
Put a large pot on medium heat and add the sucuk and onions. Add the peppers when the sucuk starts to change color and release its fat. Cook for a couple of minutes, stirring occasionally until the sucuk is browned.
Add the butter. Once it is melted, add the tomato and pepper paste. Crush the paste with the tip of your spatula to spread it evenly.
Add the boiled beans and give it a good stir until all the beans are coated. Pour in hot water up to the level of the beans and sprinkle the salt.
Put the lid on and leave it to boil on low heat. It will be ready to eat after two minutes of boiling but if you let it sit for a couple of hours, the beans will soak up all the flavors and it becomes much tastier.
To make the Turkish rice, add the butter and olive oil to a wide, shallow pot. Once hot, add the rice and sauté until it becomes transparent.
Add the boiling water and salt. Give it a gentle stir and put the lid on. Cook for around 12 minutes on low heat.
Make a hole in the center with the handle of your spoon. If there is no excess water at the bottom, it is time to turn off the heat. Cover the pot with a clean kitchen towel and put the lid back on. Let it sit for 15 minutes and your fluffy rice will be ready to eat.
Your perfect beans and rice are now ready. With some pickles and yogurt, it makes a delicious meal. To turn this meal into a feast, I have some tricks for you! Get a big dish and pile the rice on it. Make a rice dam and pour the beans into the center. Garnish with pickled cucumbers and pour some pickle juice over the pilav. Pickles add a great sour-and-salty dimension to the food. Add a couple of spoon of labneh (or drained yogurt) and mustard. Finally, sprinkle some parsley and you are ready to tuck in in a beautiful Turkish way!
Did You Make This Recipe?
---
Enjoy
Let us know what you think of today's Beans & Rice tips, tricks, and hacks!