Today we're making "The Whole Toad" from Portland's Tasty & Alder restaurant, which is a baked egg breakfast casserole recipe inspired by England's "Toad in the Hole." This is a delicious breakfast or brunch recipe that you can prepare ahead of time, then pop in the oven in the morning for guests.
Toad in the Hole gets its funny name from making two "holes" into the bread pudding and nesting the eggs inside. The following are the ingredients you'll need for this easy breakfast casserole recipe. I have modified this to serve two people below. To serve more, you can double or triple the recipe and bake in individual French onion soup crocks with 1-2 eggs per serving.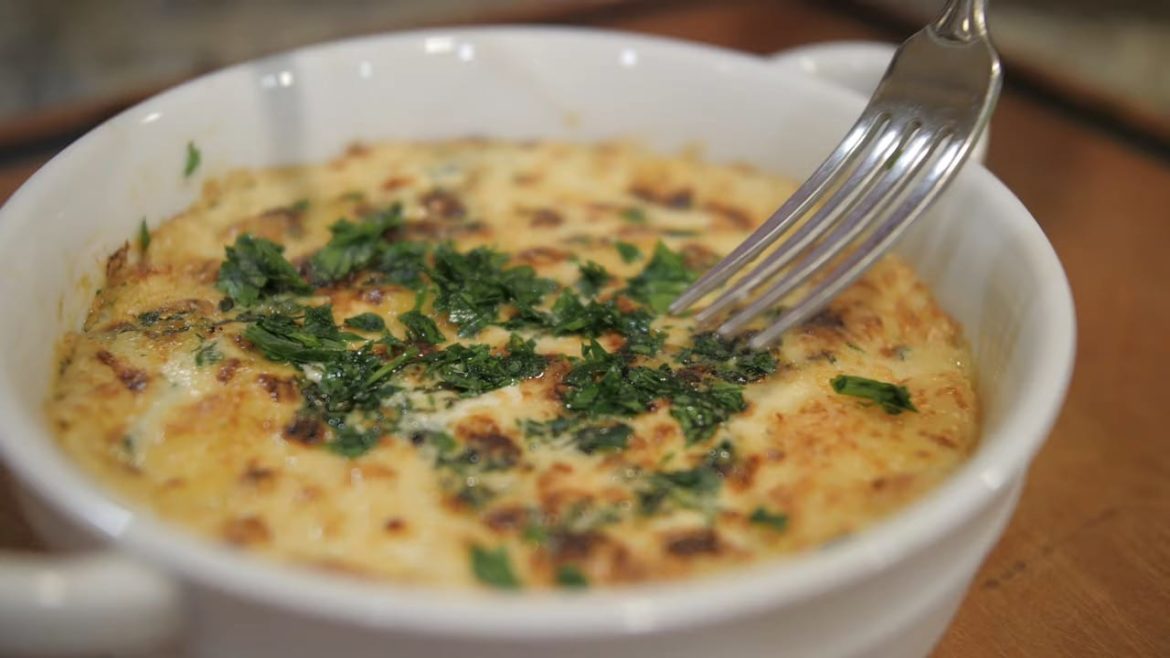 Ingredients
3-4 slices of thick brioche bread, cut into cubes
1 1/2 cups heavy cream (1 cup to soak the bread and 1/2 cup to simmer with the herbs)
2 eggs
1 teaspoon fresh cracked pepper
1 teaspoon salt
1 teaspoon fresh chopped tarragon (or chervil)
1 tablespoon fresh chopped parsley
1 tablespoon fresh chopped chives
3/4 cup gruyere cheese, shredded
Instructions
Soak the bread cubes in 1 cup of heavy cream for about 20 minutes. Simmer the 1/2 cup cream with the herbs, salt, and pepper. Bring to a boil, stirring, and the set-aside.
Make two indents into the bread cube mix and crack two eggs in each hole.
Drizzle with the herbed cream mixture. Cover the eggs completely with the cheese and bake for 15-20 minutes at 425 F.
In the convection oven, it takes about 10-15 minutes. The consistency should be like Jello when you take it out, with the whites of the eggs cooked, but the yolks still runny. This recipe serves two. Double the recipe to serve more.
Did You Make This Recipe?
Recipe Adapted from "Hello! My Name Is Tasty: Global Diner Favorites from Portland's Tasty Restaurants" by John Gorham.
---
Enjoy