It is a fried bread that I have been making for a long time since I started making bread. Even now and in the past, it's fluffy, and the taste is the same.
If you want to make one,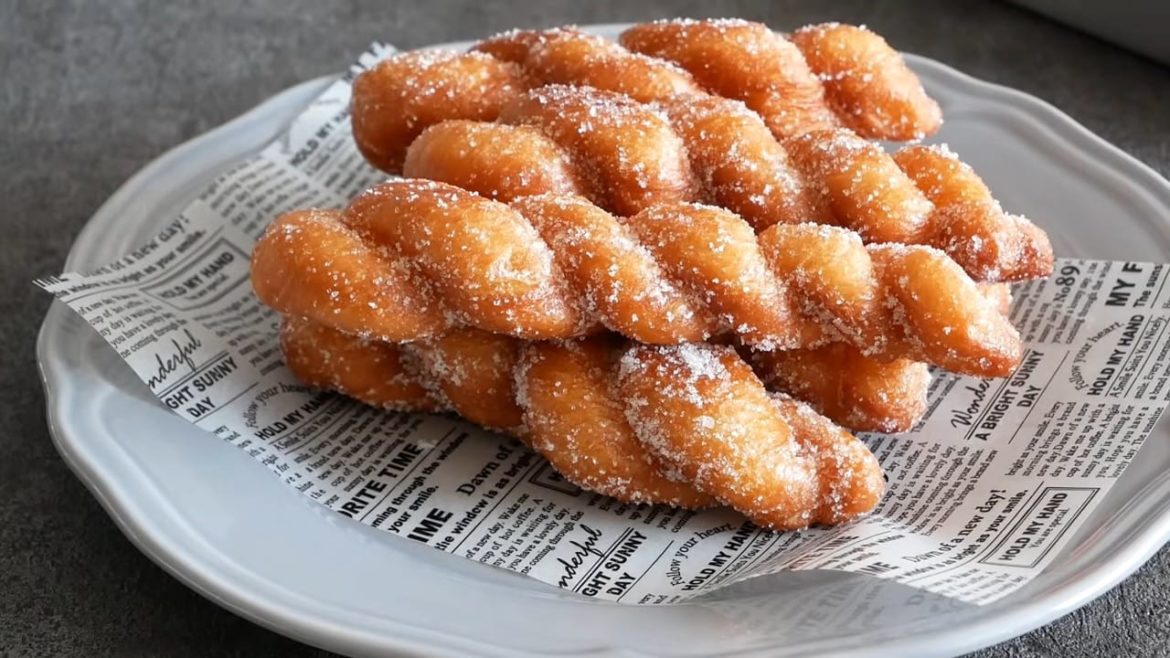 Ingredients
★150g Bread flour
★10g Sugar 
★2g Salt
3g dry yeast
112g Soy Milk
12g Unsalted butter(room temperature)
for coating:
15g granulated sugar
Canola Oil for frying
Instructions
Combine the dry ingredients (★) and mix together with a whisk.
Add dry yeast and soy milk and Mix.
Put it on the table and knead. (10mins)
Add butter and knead more. (5mins)

*Near the end, pull the end of your dough with your thumb and fingers. Keep spreading the dough with your fingers, stretching the dough into a thin translucent membrane.
This test is called the Windowpane Test to see if the dough's gluten has been developed enough.
If the dough tears, the gluten isn't quite ready yet. Knead the dough for another few minutes and test again.

Make it round, then leave it at a warm place until it gets twice as bigger. (primary fermentation)
Degas the dough from ⑤, divide it into 6 pieces and make them round.
Cover them with a wet cloth and leave them for 10 mins. (bench time)
Take a piece of dough and roll it out on your cutting board so it forms a rope 7.8 inches long.
Cover them with a wet cloth and leave them for 7-8 mins.
When you roll out the dough, move one hand upward and the other downward so that the rope is twisted in between your hands as you roll it. Take the dough off the board, hold it aloft, and bring the ends together. The tension in the dough will twist it as it hangs.
Place the twisted dough on a floured cutting board or tray.

Repeat with the rest of the pieces of dough.

Let the doughnuts expand for about 30 minutes
Heat the deep-frying oil to 320ºF (160ºC) in a pot and deep-fry doughnuts until puffed and golden each side.
Add these optional finishing touches while the doughnuts are still slightly warm.
Coat doughnuts with granulated sugar.
Notes
The best Soy milk temperature for the dough: About 30℃ for spring and autumn. About 10℃ for summer, and about 40℃ for winter.
Be careful not to let the dough dry out when you are letting it rise or rest.
When the dough is too moist and sticky, powder the dough a little.

Did You Make This Recipe?
Recipe video
---
Enjoy