Hi I'm Wolfgang Puck and I gonna show you what I will be cooking for the Oscars
Well I'm gonna show you how to make my Sivas in puff pastry with a little chive butter it's really simple we do it for the Oscars every year and people just love it.
You know for the Oscars we cook for 1600 people so we cannot cook everything to order it would take too long but with the fish and puff pastry we can make it in the morning and then have 40 or 50 of these fishes ready and we can cut them into small portions and we have 4 or 500 pieces of fish ready to go.
what I like about it is I can do it in advance so nobody has to do it at the last second and but it's great because of the puff pastry it stays really hot inside we make about 50 of these fishes even bigger one and this won't just slice it and serve it with the sauce and everybody gonna get a hot fish.
The moment people get out of the theater they are all really hungry so when they come up we have a big sushi bar roll bar and everything outside with champagne and wine and cocktails and everything so people can get a bite and then when people go inside the room as soon as they sit down somewhere
you have waiter coming with trays of food all on small plate now in the old time it was a more formal setting everybody had their place cards but I said this is not a fun party because everybody had to sit already for four hours in the theater so when they are out they want to mingle with people so now I know if spirit becomes or Clint Eastwood comes or some other director comes I sit them all in the same area as a more loungy feel and we serve now everything in small pie everybody can eat but instead of eating one big dish you actually can eat 10 different sites so you get a small plate of the fish in puff pastry you get a small lamb chops or you'll get a small baked potato with some caviar
Trout in Puff Pastry (Servings: 6)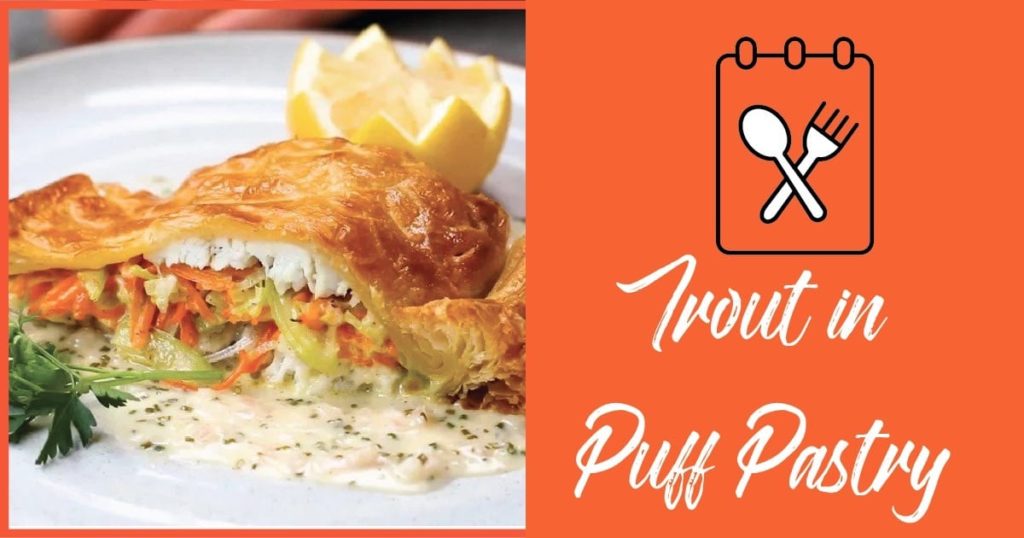 INGREDIENTS
2 tablespoons olive oil
½ cup celery, sliced
½ cup leeks, julienned
½ cup carrots, julienned
Salt, to taste
White pepper, to taste
1 cup heavy cream
1 whole trout, cleaned
Black pepper, to taste
2 tablespoons fresh tarragon, chopped
2 sheets puff pastry
2 eggs, beaten
Parsley, for serving
Lemon wedges, for serving
Chive Butter Sauce:
1 cup white wine
Juice of one lemon
4 shallots, minced
½ bunch tarragon
1 cup heavy cream
18 tablespoons (2 ¼ sticks) butter, sliced
Salt, to taste
Pepper, to taste
2 bunches chives, minced
PREPARATION
Heat the olive oil in a medium pan over medium heat.
Add the celery, leeks, carrots, and a pinch of salt and white pepper, and sauté until the vegetables start to cook down.
Add the cream and stir to coat the vegetables. Cook until the cream is thickened.
Remove the pan from the heat.
Line a baking sheet with parchment paper. Roll out both sheets of puff pastry until they are ⅓-inch thick. Transfer one sheet of puff pastry to the baking sheet.
Cut the trout along the back to remove the spine, then butterfly open. Season with salt, pepper, and the tarragon.
Scoop the cooked vegetables onto one side of the fish, then fold over the other fillet.
Transfer the fish to the center of the sheet of puff pastry.
Brush egg wash around the fish, then lay on the second sheet of puff pastry, pressing around the fish to seal. Use a paring knife to cut away the excess puff pastry in the shape of a fish.
Brush the top of the puff pastry with egg wash and use the leftover pastry scraps to decorate the fish with an eye and gills. Use the tip of the knife or the large opening of a pastry tip to draw scales on the body and tail.
Chill in the refrigerator for at least 30 minutes.
Make the Chive Butter Sauce: In a medium saucepan over medium heat, combine the wine, lemon juice, shallots, and tarragon. Reduce until only a ¼ cup of liquid remains. Add the cream and reduce until the mixture thickens slightly.
Slowly whisk in the butter, 1 piece at a time, until the sauce is glossy and thickened.
Remove the tarragon stem and season with salt and pepper. Stir in the chives.
Preheat the oven to 375℉ (190℃). When the oven is heated. Bake the fish for 15 to 20 minutes, or until the pastry is golden brown.
Transfer the fish to a platter and garnish with fresh parsley and lemon wedges.
To serve, cut the fish into indiv
---
Chicken Pot Pie (Servings: 4)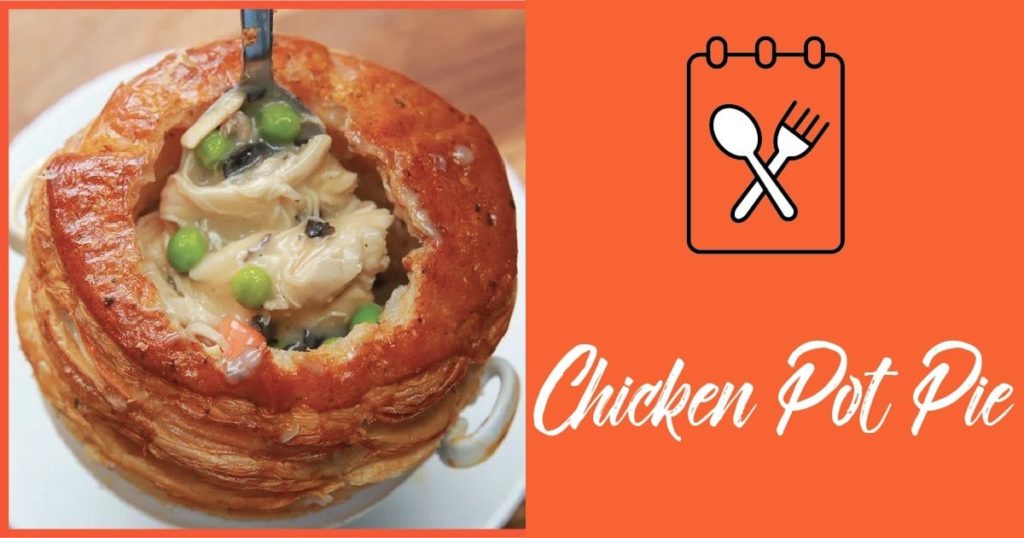 I'm gonna show you how I make my famous chicken pot pie with black truffles everybody raves about it I love to see some of the people like Denzel
Washington or cleaned is Laura Murray score
see or some of the people I know for 40 years when they're always asked to see me they say Oh wolf is here we know we're gonna get great food and I remember powers risin telling me a few weeks ago she said you know I don't care what you cook for the Oscar just make me my chicken pot pie
Prince Albert came one year after the Oscars and he said I wish you would open a restaurant in Monte Carlo and make the same chicken potpie you made for the Oscars
we started making that maybe eight years ago or so every year I order like Shirley pounds of black truffles from France it's just the end of the season the end of February beginning of March we order lots of caviar and we make tortellini or pasta with black truffles one year when we still had the whole fancy dinner when it was more formal we made it for everybody and it was the first time everybody got hot food but I think it has become such a popular dish
Ingredients:
4 tablespoons unsalted butter, at room temperature
4 tablespoons all-purpose flour, plus more for dusting
2 cups chicken broth (480 g), good-quality
salt, to taste
freshly ground black pepper, to taste
1 pinch cayenne pepper, optional, to taste
2 tablespoons heavy cream, plus more for egg wash
2 lb cooked boneless, skinless chicken (910 g), shredded
½ lb carrot (225 g), peeled, cut into 1/2-inch (1cm) pieces
½ lb red-skinned potato (225 g), cut into 1/2-inch (1cm) pieces
½ cup frozen peas (75 g), or shelled fresh peas
½ lb puff pastry (225 g), defrosted following package instructions
1 black truffle, optional, to taste
1 large egg
Preparation:
Melt the butter in a large, deep saucepan.
Add the flour and whisk to ensure there are no lumps before adding the chicken stock. Cook for 5-10 minutes while continuously stirring.
Check the consistency by dipping the back of a spoon into the sauce and running your finger along with the spoon. You want the sauce to cling to the spoon and not run over the swipe you made.
Continue to cook and stir the sauce over medium heat until you reach the correct consistency. Season with the salt, pepper, and cayenne (if using). Taste the sauce and see if your sauce needs more seasoning.
Add the cream and stir to combine.
Add the shredded chicken, carrots, potatoes, and peas to the sauce. Cook the vegetables in the sauce for 2-3 minutes.
Transfer the filling to a clean bowl and chill in the refrigerator for 1 hour, or until cool.
Preheat the oven to 400˚F (200˚C).
Roll out the puff pastry, using a bit of extra flour to ensure the pastry doesn't stick to your work surface. Use a bowl or plate about an inch (2 cm) larger than the dish you are cooking your pot pie in as a guide to cut out your pastry.
Carefully spoon the chilled filling into oven-proof serving bowls.
Break the egg in a small bowl and add a tablespoon of water or cream. Whisk with a fork.
Brush the egg wash on the edges and rim of your dishes.
If desired, shave truffles over the filling. Lay the pastry rounds over the top, being careful not to stretch the pastry. Seal the edges of the pastry by lightly pushing it onto the rim of your dish to make sure it is secure.
Brush the top and sides with more egg wash.
Place the pot pies on a large baking sheet and bake for 25-35 minutes, until the pastry is a nice golden, dark brown and there are no more grayish raw patches.
Let cool for 5 minutes before serving.
---
Salmon with Pesto Veggie Noodles (Servings: 2)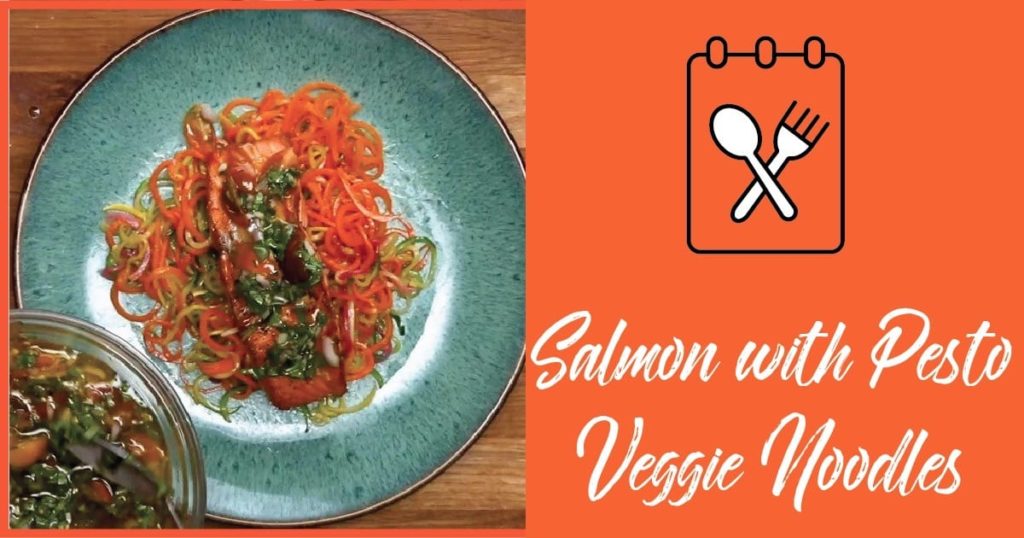 they're gonna show you how to make my salmon with pesto noodles healthy and delicious in the middle of the 90s big board of governors asked me to cater the governor's board which at that time was downtown at the Shrine Auditorium but it was the first time that everybody actually stayed for dinner because they knew I was cooking and most of the movie people most of the movie stars direct the producers come to our restaurant so they know the quality of the food we serve so then they said you have to do it every year so we started that 23 years ago one year Michael Caine came to the Oscars one of our first Oscar parties the next day he invited his whole family to Spago and says Wolfgang I want exactly the same thing I had last night at the dinner party after the Oscars and that we made him the same dinner and he said almost as good as at the Oscars I said we are you won an Oscar that's why we always do also healthy food you know food with no meat in a vegetarian food so we might do for example a tomato risotto make it totally vegan we use a vegetable stock and we use tomato sauce which we make ourselves folded in without parmesan and butter just add more tomatoes in it's nice and creamy and we
taystee we have a lot of vegan dishes also vegetarian dishes I have six people on doing vegan dishes the salmon with the pesto and vegetable noodles has become very popular people think oh I wanna eat healthy I wanna eat something good so this is a perfect dish
INGREDIENTS
1 shallot
2 cloves garlic
5 large leaves basil
¼ bunch flat-leaf parsley
1-pint cherry tomatoes
1 teaspoon chili flakes
Salt, to taste
Pepper, to taste
1 lemon
¼ cup extra-virgin olive oil, plus more for cooking
2 6-ounce fillets of salmon, skin off
1 yellow squash
1 zucchini
2 carrots
2 watermelon radishes
PREPARATION
Finely dice the shallot and add it to a medium bowl.
Mince the garlic and add it to the bowl with the shallot.
Chiffonade the basil, chop the parsley and add to the bowl.
Quarter the cherry tomatoes and add them to the bowl with the herbs, along with the chili flakes, a pinch of salt and pepper, the juice of one lemon, and the olive oil. Stir to combine.
Heat a bit of oil in a medium skillet over medium heat.
Season the salmon fillets with salt and pepper. When the oil is shimmering, sear the salmon on one side until golden brown. Flip and cook until the other side is golden brown and the fish is cooked through. Remove the salmon from the heat and wipe out the skillet.
Cut the squash, zucchini, carrots, and watermelon radishes in half, if needed, then spiralize.
Heat a bit of oil in the pan over medium heat until simmering.
Add the vegetable noodles to the pan and season with salt and pepper. Saute until tender, about 2 minutes.
Divide the vegetable noodles between two plates.
Place a piece of salmon on each bed of noodles, then top with tomato sauce.
---
Cabernet-braised Short Ribs (6 servings)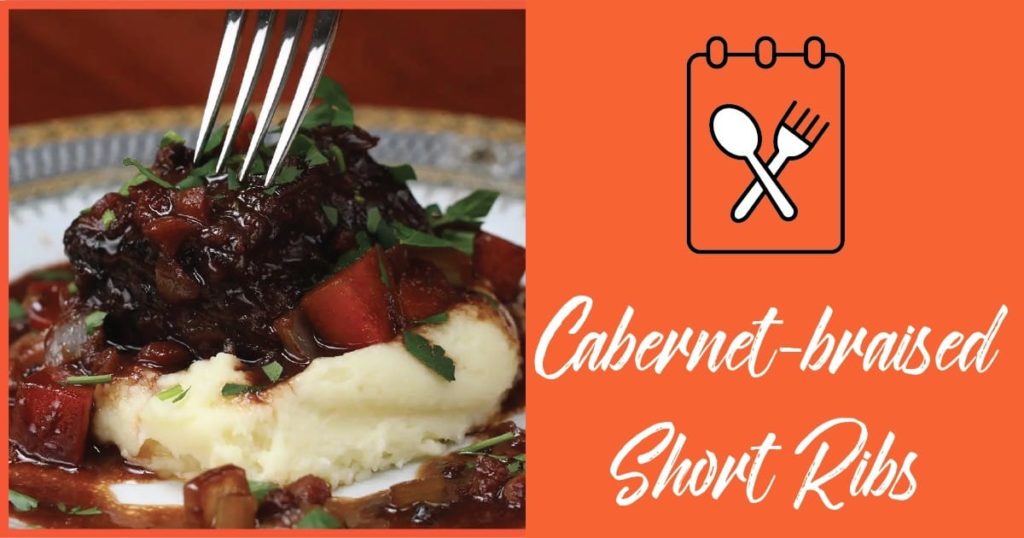 I'm gonna make the most delicious Cabernet braised short ribs every movie stars will love it I think we make certain different dishes so there's something for everybody if you want a baked potato recovery or a chicken pot pie or a bug UB whatever it is we have it for you when we do the menu for the Academy Awards we're gonna have part of it it's comfort food and part of it is innovation place short trips is really comfort food the chicken pot pie is really comfort food so when people didn't eat all day then at the end of the evening by 10 o'clock at night everybody is so hungry so to have real comfort food feels really good
we also pass around our smoked salmon Oscars our mini burgers our sliders all kind of different pizzas there are so many different dishes then you can eat for an hour two hours whatever you want but what it's exciting instead of having one big plate
you can choose so many different on last year we made surgery dishes basically made like 15,000 plates everybody has their favorite like steven Spielberg he loves our braised short ribs with a little polenta we make some new things always too this year we got for example 200 pounds of beef from the Miyazaki Prefecture in Japan which really has the best value of beef in the world but a lot of things are traditional like our chicken potpie and our fish and buffets they will make it every year we also make 5,000 chocolate Oscars which we paint in gold so people can take them home if the
win or lose we give everybody an Oscar for me presentation is very important because we always eat with our eyes first

this is a dish oscar-worthy as a matter of fact is better than most of the movies oh yes

Ingredients
6 large beef short ribs, trimmed of excess fat
MARINADE:
2 stalks celery, trimmed and cut into 1-inch (2 cm) pieces
2 medium carrots, peeled, trimmed, and cut into 1-inch (2 cm) pieces
1 medium leek, white and light-green parts only, split lengthwise, thoroughly rinsed, and coarsely chopped
6 cloves garlic, peeled
1 bay leaf
4 sprigs fresh thyme
whole black pepper, to taste
2 tablespoons all-purpose flour
salt, to taste
pepper, to taste
1 bottle cabernet sauvignon
SAUCE:
2 tablespoons olive oil
2 tablespoons tomato paste
2 qt unsalted beef broth (2 L), or chicken broth
GARNISH:
mashed potato
Italian parsley, chopped
Instructions:
In a large bowl, add the short ribs, all vegetables, herbs and black pepper to taste for the marinade. Add the wine to cover.
Marinate at least 6 hours in the fridge.
Remove the meat from the marinade and pat dry with a towel or paper towel.
Strain the veggies from the wine. Reserve both the wine and veggies for later.
Season the meat with a generous amount of salt and pepper. Coat each side with flour and set aside.
In a large ovenproof pot, heat the olive oil over medium-high heat on the stovetop.
Preheat the oven to 350F˚(180C˚).
When the oil begins smoking, carefully slip ribs into the pot and sear until well-browned, 4 to 5 minutes per side. Transfer ribs to plate.
In the same pot, sauté the veggies from the marinade until lightly caramelized and browned, 5 to 7 minutes.
Add the wine in the pot, stirring to deglaze. Add tomato paste and stir to dissolve. Bring the liquid to a boil so the alcohol from the wine evaporates.
Add beef broth and bring it back to a boil. Add the ribs back to your pot. Spoon the liquid over the ribs to coat them.
Cover the pot and transfer to the middle rack of your oven.
Bake until meat is tender enough to be pierced easily with fork, about 2½ hours, opening the oven every 30 minutes and carefully skimming the fat from surface.
Serve with mashed potatoes, or another side of your choice, and garnish with chopped parsley on top.
Recipe video
---
Enjoy
Check out a few secrets from Wolfgang Puck who is catering the offical Oscar's afterparty this year.