Creamy Parmesan Chicken and Veggies are on the menu in Book recipe, and we are going to teach you how to make this delicious recipe from scratch!
I'm on a roll with these chicken and veggie recipes! Honestly, I just love how easy they are and they are just so yummy! You cannot go wrong! This one is especially good because of the broccoli. I love how the broccoli gets soft and absorbs tons of that decadent creamy parmesan sauce. Delicious is an understatement! I know you all will love this!
Follow along with the ???? recipes below????????????????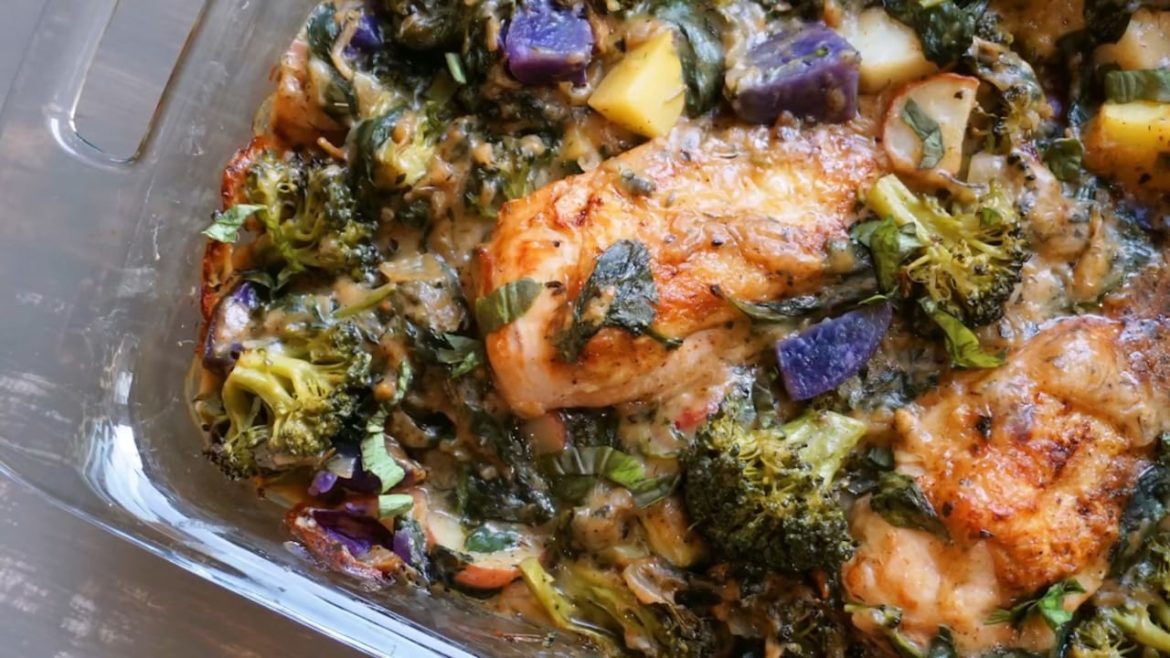 Ingredients
2 Skin-On Chicken Breasts (Use legs, thighs, whatever you want!)
1 Teaspoon Italian Seasoning
1 Teaspoon Garlic Powder
½ Teaspoon Cayenne Pepper
Salt and Pepper to Taste
1 Tablespoon Olive Oil
4 Tablespoons Butter (Divided)
1 Medium Onion, Diced
3 Cloves Garlic, Minced
¼ Cup All-Purpose Flour
1 ¾ Cup Chicken Stock
¾ Cup Milk
1 Tablespoon Italian Seasoning
1 Teaspoon Dried Dill
1 Teaspoon Garlic Powder
½ Teaspoon Cayenne Pepper
¾ Cup Grated Parmesan Cheese
2 Cups Fresh Spinach, Packed
2 Cups Fresh Broccoli, Chopped
16 Ounces Red Skin Potatoes, Chopped into 1-inch chunks
Instructions
Preheat oven to 425°F.
In a dutch oven skillet, melt 2 tablespoons butter with olive oil over medium-high heat. Place seasoned chicken in, skin side down, and cook until brown on both sides. Do not cook all the way through. Once browned, remove from pan and set aside.
In the same pan over medium-low heat, add the remaining 2 tablespoons butter and chopped onion. Saute until the onion is softened, about 3 minutes. Add garlic, and sauté another minute.
Add flour and continuously stir and cook for 2 minutes to cook out the raw flour taste. Whisk in chicken stock and milk until no clumps remain. Bring to a simmer and add Italian seasoning, dill, garlic powder, cayenne pepper, salt, and pepper. Stir in grated parmesan cheese. Add spinach and fold into the sauce until full wilted. Set aside.
In a 13"x 9" pan, place chicken breasts. Scatter broccoli and potatoes around the sides. Pour over top the cream sauce and spread evenly to coat. 
Place in a 425°F oven and cook until chicken is cooked to an internal temperature of 165°F and potatoes are tender. About 20-30 minutes.
Notes
Cut your potatoes to size according to how long your chicken will take to cook.
i.e.: The smaller your chicken is, the smaller you should cut the potatoes to ensure you don't overcook the chicken before cooking the potatoes through.

Did You Make This Recipe?
---
Enjoy