We all know about my obsession with one pan recipe. What's not to love?! They pack a ton of flavor, take minimal time, and they are easy cleanup! This is no exception because it is DELISH. This is very similar to my slow cooker honey garlic chicken and veggies that you all know and love, except you don't have to wait all day for it to cook!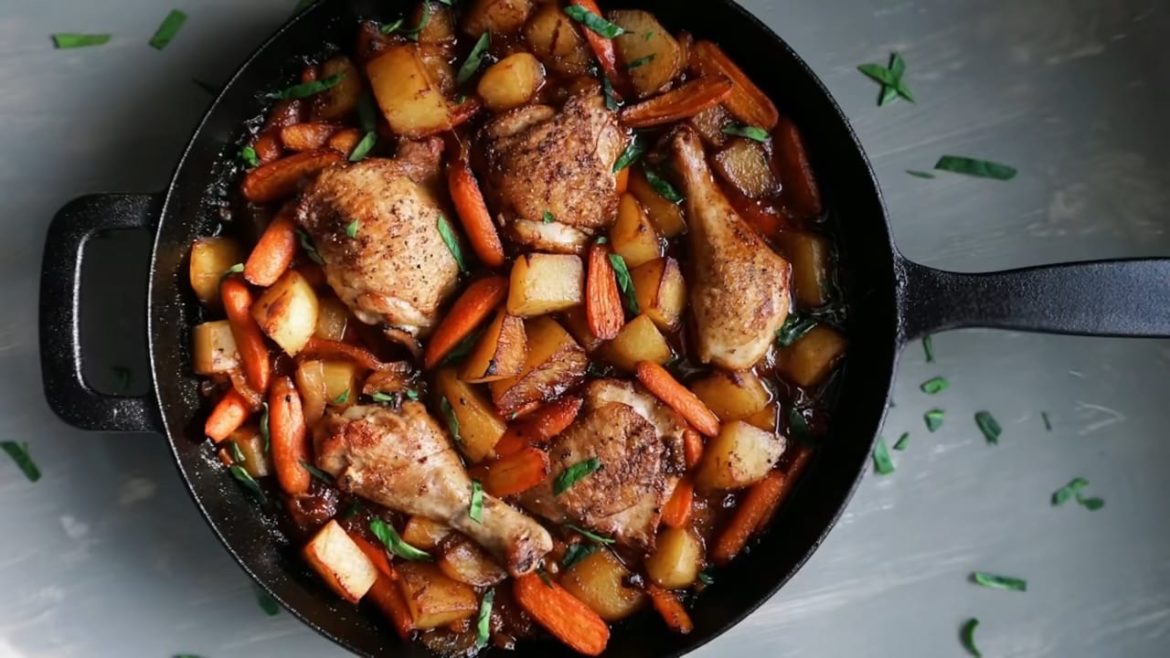 Ingredients
3 Medium Chicken Thighs, Bone-in Skin on
2 Chicken Wings, Bone-in Skin on
2 Tablespoons Butter
1 Tablespoon Olive Oil
Salt, Pepper, Paprika to Taste
4 Medium Russet Potatoes, Peeled and Diced into 1-Inch Cubes
2 Cups Baby Carrots, Halved Longways
1 Medium Onion, Diced
5 Cloves Garlic, Minced
1/2 Cup Coconut Aminos (Soy Sauce Substitute)
1/2 Cup Honey
1/4 Cup Ketchup
1 Cup Chicken Stock
Instructions
Heat a large cast-iron skillet over medium-high, add butter and olive oil. Pat dry chicken with a paper towel and season with salt, pepper, and paprika to taste. Place chicken skin side down in the hot skillet, and cook just until brown. Flip chicken and brown on the other side. Do not cook all the way through. Remove from pan and set aside.
In the same skillet, add baby carrots and potatoes. Season with salt and pepper. Cook over high heat until they develop some color. About 8 minutes.
Once slightly golden but NOT cooked through, remove from the pan, and set aside.
In the same pan, add onion, and more olive oil if needed. Saute onion until translucent. While the onion is cooking, make the sauce. Whisk to combine coconut aminos, honey, ketchup and chicken stock in a small bowl. Set aside.
Add garlic to the onion and cook 1 minute. Add sauce and bring to a simmer to reduce slightly. About 5 minutes.
Add carrots and potatoes to the skillet and toss in the sauce. Nestle in chicken pieces.
Finish cooking in a 425°F oven for about 15-20 minutes OR until chicken reads an internal temperature of 165°F.
Notes
TIP: Only stir occasionally. This allows more color to develop. Color = FLAVOR!

Did You Make This Recipe?
Recipe video
---
Enjoy
See also: