Sauteed Steak is on the menu in Book recipe, and we are going to teach you how to make this delicious recipe from scratch!
Dinner is served! Chef Jacques Pépin shares his take on a tasty version of Chef's Steak…paired perfectly with B. Wise Vineyards.
Follow along with the ???? recipes below????????????????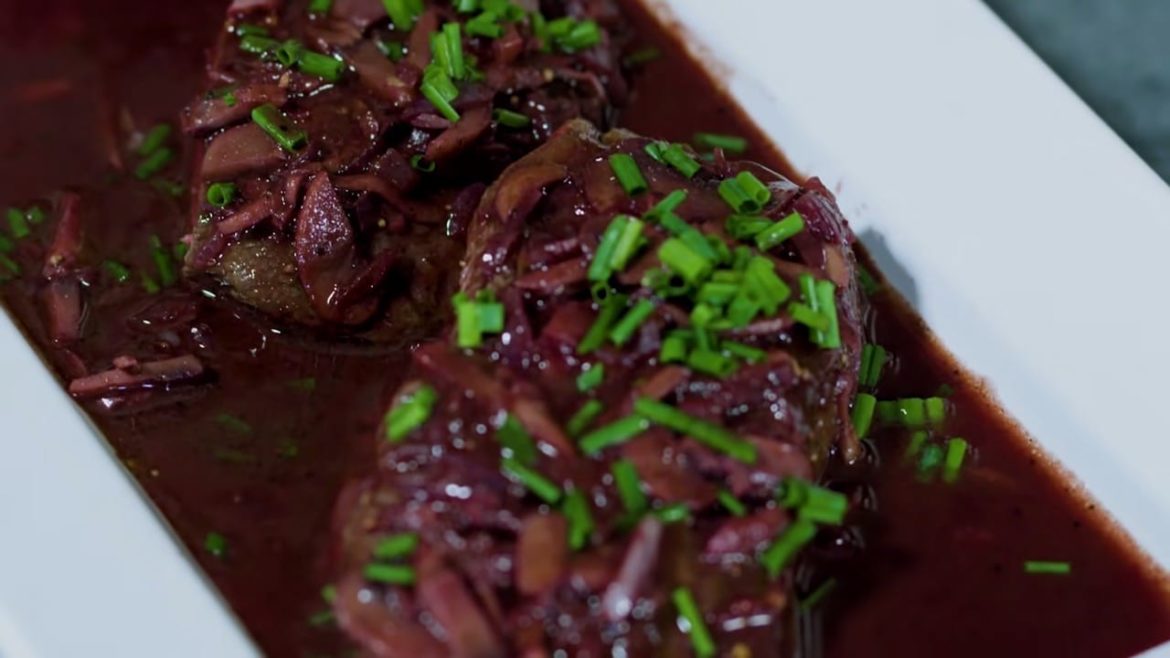 Ingredients
4 New York Strip (also called top loin or shell steaks) or sirloin tip steaks (about 9 ounces each and
3/4 inch thick; 7 ounces trimmed)
3/4 teaspoon salt
1/2 teaspoon freshly ground black pepper
2 tablespoons olive oil
2 large shallots, finely chopped (1/4 cup)
4 large mushrooms, cleaned and cut into julienne strips (1 1/2 cups)
2 large garlic cloves, crushed and finely chopped (1 1/2 teaspoons)
1 cup fruity dry red wine (such as Beaujolais)
1 cup homemade chicken stock or low- salt canned chicken broth
1 tablespoon Worcestershire sauce
1 tablespoon Dijon mustard
1/2 teaspoon potato starch dissolved in 2 teaspoons water
1 tablespoon unsalted butter
1 tablespoon finely chopped fresh chives
Wine for Cheers
Instructions
Trim the steaks, removing all surface fat and sinews. Sprinkle them with 1/2 teaspoon of the salt and the pepper.
Heat the oil in a large skillet. When it is hot, add the steaks and sauté for about 2 minutes on each side for medium-rare. Remove the steaks to a platter and set them aside in a warm place.
Add the shallots to the drippings in the skillet and sauté for about 10 seconds. Add the mushrooms and garlic and sauté for 1 minute. Stir in the wine and boil until only about 2 tablespoons remain. Add the stock and boil to reduce to about 3/4 cup.
Add the Worcestershire sauce, mustard, and the remaining 1/4 teaspoon salt and mix well. Stir in the dissolved potato starch and bring to a boil. Swirl in the butter and mix well.
Arrange the steaks on individual plates and spoon some sauce on top of and around each one. Garnish with the chives and serve.
Did You Make This Recipe?
Recipe video
Bon Appétit