Today's menu is vanilla custard cream-filled doughnuts. Actually I made it using another flavor of cream, but the basic flavor is most delicious.
If you are too lazy even to make the filling, you can dust them with sugar or spread Nutella or strawberry jam.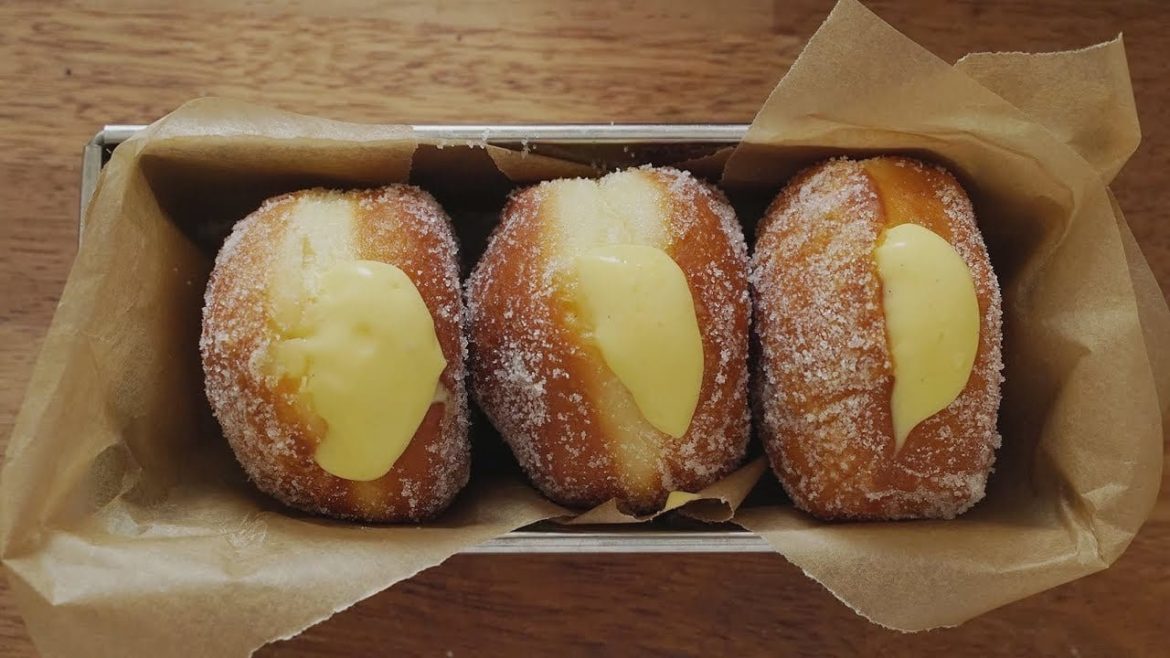 Ingredients
Dough:
500g all-purpose flour
200g warm milk
8g instant yeast
60g sugar
7g salt
50g unsalted butter (soft at room temperature)
2 eggs (100~105g, I used large egg)
Filling:
6 egg yolks
100g sugar
1 vanilla bean
500ml milk
50g all-purpose flour
Instructions
Making vanilla custard pastry cream:
Pour the milk and vanilla bean(split and scraped) and simmer until the edge starts to bubble.
In a mixing bowl, add and whip egg yolks and sugar until pale yellow. And then, add and mix flour.
Slowly pour the (1)milk into (2)egg mixture.
Strain the (3)mixture and simmer in a pot on medium-low heat.
While simmering, keep stirring until soft cream consistency.
Set aside to cool in a bowl, sealed with wrap.
If you want a softer texture, strain the cream again.
Making the doughnut
In a large mixing bowl, add and mix warm milk, yeast, and sugar. And then, let stand for 10min.
add salt into the flour and mix well using a chopstick.
Add egg and flour into (1)milk mixture and mix well using a spatula.
Knead with hands until the dough forms a ball.
Add butter and keep kneading until the surface is smooth or for 15~20min.
Cover the dough and rest until it doubles in size.
Punch the dough to remove some of the gas bubbles in it. And roll it to 1cm thickness.
Cut the dough using a round cookie cutter(8cm), cover with cheesecloth or plastic wrap, and rest for 30min.
Ball up the scrap dough and repeat steps 7 to 8.
Pour and heat oil into a pot at 170℃. Add and fry for 1 ~ 2min each side until golden brown.
Remove from the oil, place it on a frying tray or paper towel.
Slit the doughnut for the filling using a knife, fill the doughnuts with the custard cream.
Coat the doughnuts in sugar. Done!
Notes
The order of filling and dusting doesn't matter. Suit yourself
Keep the finished doughnuts in an airtight container to prevent drying out.

Did You Make This Recipe?
Recipe video
---
Enjoy