Leg of lamb is on the menu in Book recipe, and we are going to teach you how to make this delicious recipe from scratch!
Today we're making an extremely Tender & flavorful Middle Eastern leg of lamb, that's perfect for dinner parties and celebrations. It's marinated with an onion and pepper marinade overnight then slow-cooked to perfection. We'll also be making the best roast vegetables to serve alongside the lamb.
Follow along with the ???? recipes below????????????????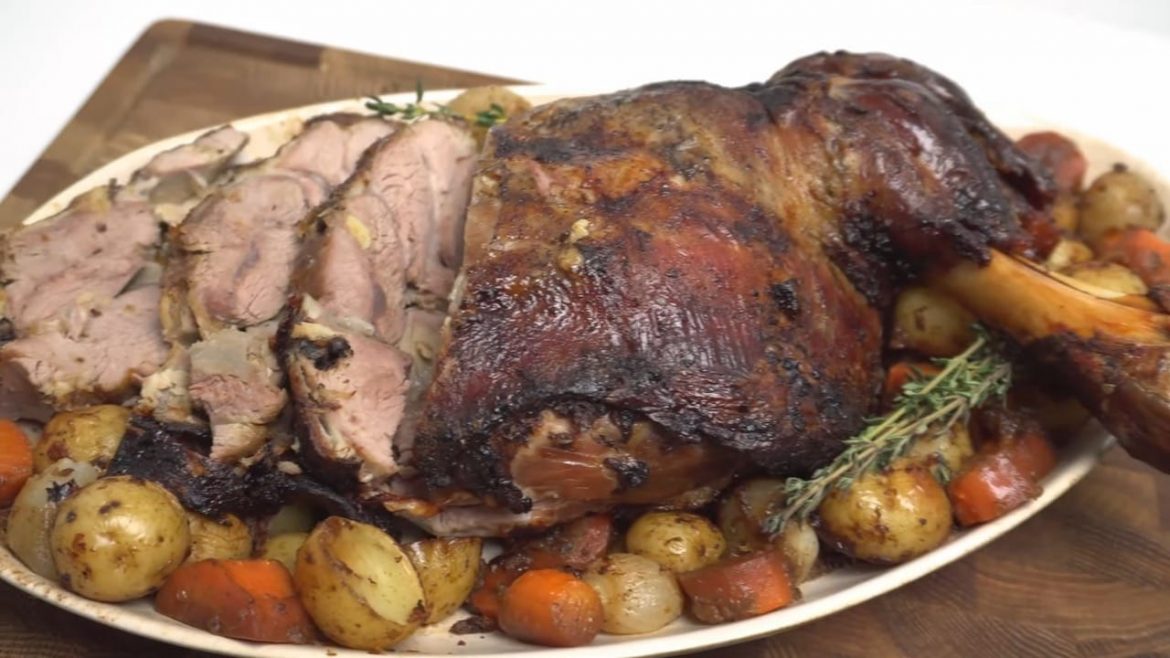 Ingredients
Marinade:
100ml (3.3fl oz) water
6-8 Large onions
4 Cloves Garlic
2 Tbsp Salt
1 Tbsp Black Peppercorns
Lamb Leg:
Lamb Leg or Shoulder Approx 2.5kg (5.5lbs)
6-8 Cloves Garlic
1 Tsp Black Peppercorns
Nutmeg to grate
Roast Vegetables:
500g (1.1 lb) Carrots
600g (1.3 lb) Mini potatoes or dice regular potatoes
500g (1.1 lb) Mini onions or shallots
100ml (3.3fl oz) Deglazed lamb juices
1 Large Onion
1 Tsp Salt
1/4 Tsp Pepper
Instructions
To marinate meat:
Peel your garlic and onions, and roughly chop to a size that is manageable for your food processor or blender
Add all the marinade ingredients to your blender/food processor and process them into a fine paste
Prepare your lamb leg by trimming excess fat where desired, don't remove all of it or the leg can dry out
Make about 15-20 holes in the leg with a knife and in each one place a sliver of garlic and 1-2 peppercorns
Coat the lamb in the marinade making sure it is pressed into the meat. Refrigerate and allow to marinate for 12 hours minimum
To cook the meat:
Remove the meat from the fridge an hour before cooking, and remove all of the onion marinades from its surface
Prepare a deep baking dish with a wire rack, or by laying in a bed of onion circles. Then place the lamb on top
Grate nutmeg freshly onto both sides of the lamb leg, then cover tightly with foil
Place in an oven set to 180c (350f) to bake for 3-4 hours
Around the 2.5 and 3-hour marks remove and check to see doneness by pocking with a dinner knife. Once there is little resistance, remove the foil and allow it to brown
Remove from the oven once you can easily poke a knife into it
Allow resting for 15-30 minutes before removing any bones and carving it
To cook the roast vegetables:
Peel and slice your carrots, potatoes, and onions to your desired shape/size
In a blender combine the onion, salt, pepper, and some deglazed lamb juices into a fine paste
Mix the paste into the vegetables and place on a baking sheet lined with foil
Roast the vegetables for an hour until fully cooked and softened
Did You Make This Recipe?
---
Enjoy
Let us know what you think of today's leg of lamb tips, tricks, and hacks!